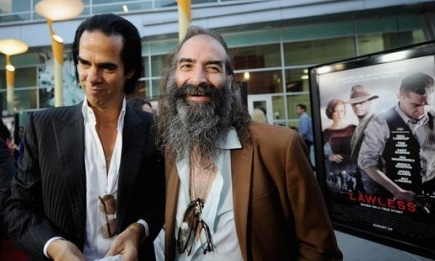 A magyar filmszínházakba szeptember 13-án kerülő (de a 80. születésnapját ünneplő Toldi moziban már 8-án este megnézhető) Fékezhetetlen című gengszterfilmnek Nick Cave nem csak a forgatókönyvét írta, hanem a zenéjét is: Bad Seeds és Grinderman nevű együtteseinek hűséges hegedűs-gitárosával, a párhuzamosan a Dirty Three nevű zenekart vezető nagy szakállú Warren Ellisszel komponált a nyolc évtizeddel ezelőtti történethez illő kísérőzenét, pár John Lee Hooker-, Link Wray-, Captain Beefheart- és Townes Van Zandt-feldolgozás mellett még a Velvet Underground (White Light/White Heat) és a Grandaddy (So You'll Aim Toward The Sky) egy-egy számát is archaizálták The Bootleggers névre keresztelt alkalmi együttesükkel, vendéghangoknak pedig olyanok hívtak, mint country-rock legenda Emmylou Harris, a Duke Spirit-frontlány Liela Moss, a turnéjával november 22-én az A38-ra is eljutó Mark Lanegan (ex-Screaming Trees, QOTSA, The Gutter Twins stb.) vagy a 85 éves bluegrass veterán Ralph Stanley, sőt bónuszként a 79 éves Willie Nelson is kapott egy Oscar-esélyes végefőcímdalt.
Az augusztus 28-án megjelent filmzenelemez itt hallható:
FRISSÍTÉS: a filmzenealbum már a YouTube-on is!
a filmzenelemez dallistája, zárójelben az eredeti szerzőkkel:

1. Fire And Brimstone (Fred Lincoln Wray Jr.)
The Bootleggers feat. Mark Lanegan (4:27)

2. Burnin' Hell (Bernard Besman / John Lee Hooker) 
The Bootleggers (1:56)
3. Sure 'Nuff 'N Yes I Do
(Herb Bermann / Don Van Vliet)
The Bootleggers feat. Ralph Stanley (1:28)
4. Fire In The Blood (Nick Cave / Warren Ellis)
The Bootleggers feat. Emmylou Harris (1:10)
5. White Light/White Heat (Lou Reed)
The Bootleggers feat. Mark Lanegan (4:24)
6. Cosmonaut (Nick Cave / Warren Ellis)
The Bootleggers feat. Emmylou Harris (3:42)
7. Fire In The Blood/Snake Song (Nick Cave / Warren Ellis / Townes Van Zandt)
The Bootleggers feat. Emmylou Harris, Ralph Stanley (4:25)
8. So You'll Aim Toward The Sky (Jason Lytle)
The Bootleggers feat. Emmylou Harris, Liela Moss (5:57)
9. Fire In The Blood (Nick Cave / Warren Ellis)
The Bootleggers feat. Emmylou Harris (1:06)
10. Fire And Brimstone (Fred Lincoln Wray Jr.)
The Bootleggers feat. Ralph Stanley 2:12
11. Sure 'Nuff 'N Yes I Do (Herb Bermann / Don Van Vliet)
The Bootleggers feat. Mark Lanegan 2:35
12. White Light/White Heat (Lou Reed)
Ralph Stanley (1:38)
13. End Crawl (Nick Cave / Warren Ellis)
The Bootleggers (4:02)
14. Midnight Run (Marc Copely / James Bernard Dolan / Adam Stuart Levy)
Willie Nelson (2:37)

a film előzetese magyar felirattal:
Déri Zsolt