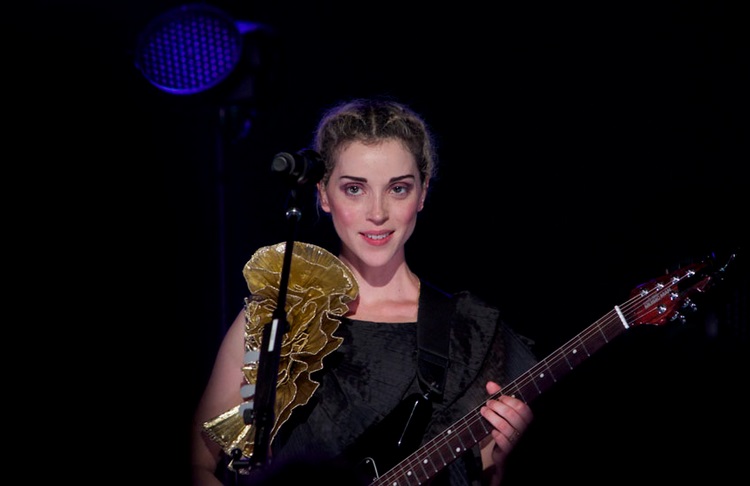 Gyönyörűen alakul az őszi budapesti koncertszezon! A Blondie-tól Trentemølleren át a pár napja kihirdetett Laurie Anderson- és Elvis Costello-koncertekig a választék elég széles, de a legnagyobb mennyiségű menőséget az A38 kínálja, ahol a Ministry Of Wolves (szeptember 28.), a Swans (október 15.), Caribou (október 17.), az Off! (október 19.), a Boxer Rebellion (november 8.), a francia Yelle (november 20.), illetve az elmaradt tavaszi látogatását bepótló MØ (november 28.) mellé épp most került oda a szezon eddigi legjobb fellépője: a hajó honlapjának Programok oldalán ma reggel feltűnt bejegyzés tanúsága szerint október 18-án a MusicPress kedvenc amerikai dalszerző-gitáros-énekesnője, St. Vincent is eljön Budapestre!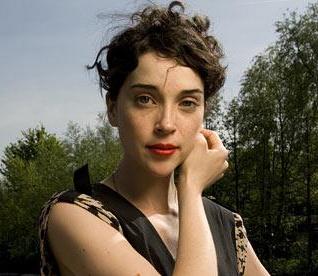 Az elmúlt évtized közepén a Polyphonic Spree együttesben és Sufjan Stevens kísérőzenekarában feltűnt virtuóz gitáros lány, Annie Clark 2006 óta jelenteti meg dalszerző-énekesnői anyagait St.Vincent név alatt. Három album (Marry Me – 2007, Actor – 2009, Strange Mercy – 2011) után az egykori Talking Heads-frontember David Byrne-nel is kiadott egy közös nagylemezt (Love This Giant), de Beckkel és a Liars-tagokkal is felvett egy INXS-feldolgozásalbumot, beugrott vokalistának a Swans új lemezére, sőt idén áprilisban a néhai Kurt Cobain helyén is felléphetett a Nirvana tagjaival a Rock And Roll Hall Of Fame-gálán (meg az azt követő titkos klubkoncerten). A legfényesebb 2014-es produkciója azonban mégis a karrierjében új szintet nyitó címnélküli új albuma és annak látványos koreográfiájú turnéja, mellyel életében először Magyarországra is eljut (és a kísérőzenekarában hozza magával Matt Johnsont is – azt az embert, aki húsz éve még Jeff Buckley-nak, tíz éve pedig Rufus Wainwrightnak a dobosa volt!)
a koncert híre az A38 honlapján: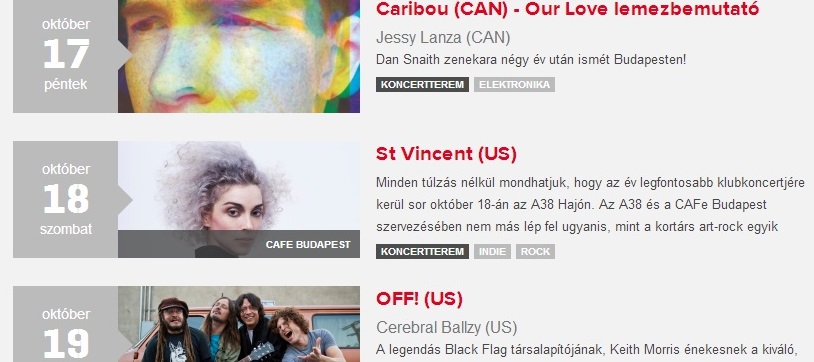 _
.
St. Vincent július 16-án adott teljes Live On Letterman-koncertjének felvétele...
Rattlesnake
Digital Witness
Cruel
Marrow
Every Tear Disappears
Surgeon
Cheerleader
Prince Johnny
Huey Newton
Regret
Birth In Reverse

...és a legfrissebb, múlt éjszaka, július 17-én a szintén Letterman-féle Late Show-ban, a Bring Me You Loves előadása: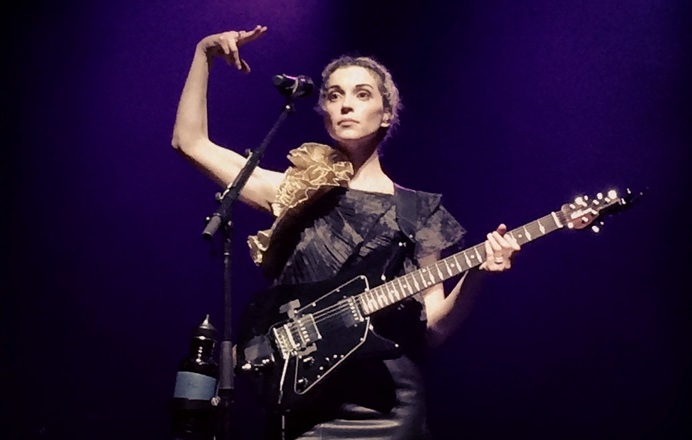 FRISSÍTÉS: délelőtt 11 tájban a koncert oldala újra elérhetővé vált az A38 honlapján...
http://www.a38.hu/hu/program/st-vincent-us
http://www.a38.hu/en/program/st-vincent-us

...és lett egy Facebook-eseményoldal is!
http://facebook.com/events/308871159285893

FRISSÍTÉS 2: nem sokkal később hivatalosan is bejelentették, hogy október 18-án, az este 7-kor kezdődő budapesti St.Vincent-koncert után még aznap éjszaka 11-től az amerikai Tycho is fellép az A38 Hajó koncerttermében (sőt az első 150 jegyvásárló Scott Hansen ambient projektje előtt még egy másik kaliforniai művész, Christopher Willits műsorát is megnézheti a szomszédos kiállítóteremben)!
http://a38.hu/hu/program/tycho-us-christopher-willits-us
Déri Zsolt 
további MusicPress-posztok a Facebookon és a Twitteren:
http://facebook.com/MusicPressBlog
http://twitter.com/MusicPressBlog