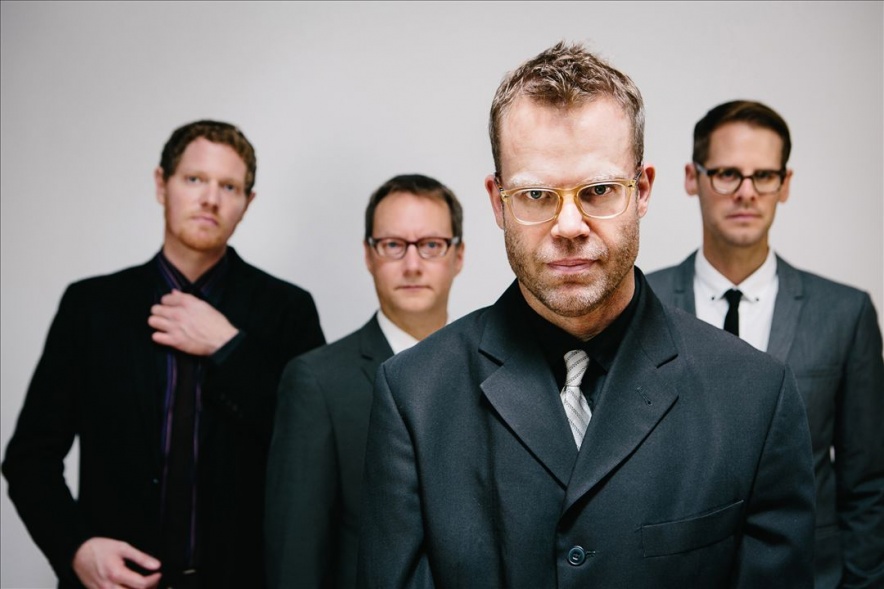 Az A38 Hajó elképesztő őszi szezonja után már 2015 elejére is érkeznek egymás után a jobbnál jobb koncertdátumok: a Raveonettes (január 24.), az Earth (február 4.), Fink (február 9.), Mark Lanegan (február 23.), az Archive (március 16.) és a Goblin (március 22.) mellé most bejelentkezett február 25-re a világ egyik legjobb lassú/szomorú zenekara, a Spain is. A Spanyolországról elnevezett Los Angeles-i slowcore/dream pop együttest Josh Haden vezeti, aki a legendás dzsesszbőgős Charlie Haden fia (és a szintén zenész Haden hármasikrek, Rachel, Petra és Tanya bátyja, ez utóbbi révén pedig Jack Black sógora is). Az aktuális turné alapját adó vadonatúj Spain-album, melyen a júliusban elhunyt Charlie Haden utolsó felvétele is szerepel, itt meghallgatható.
Az új Spain-lemezről épp most pár napja írtam az OpenAirRadio.hu-ra, így az alábbi bekezdést inkább onnan idézem:
"A legtehetségesebb Haden-utód az 1968-as születésű Josh, aki dalszerző-basszusgitáros-énekesként immár két évtizede vezeti Spain nevű zenekarát, melynek már The Blue Moods Of Spain című debütalbumával instant klasszikust alkotott (az ezen a lemezen szerepelő Spiritual című szerzeményét később Johnny Cash, Pat Metheny, illetve Mark Lanegan és a Soulsavers kollektíva is feldolgozta). A hipnotikusan lassú, megtört szívű dzsesszes éjszakai hangulatokban szomorkodó, borítóin kizárólag nőket szerepeltető slowcore/dream pop Spain első körben az ezredfordulóig működött folyamatosan, majd némi szünet (és a frontember Devoted című szólólemeze) után a 2010-es években újra elkezdett friss felvételekkel jelentkezni: a most novemberben megjelent Sargent Place immár a zenekar ötödik stúdióalbuma, és Josh-ék legjobb munkái közé tartozik. A szerző meghatározása szerint 'szerelemről, szexről, halálról, az időről és Istenről szóló romantikus dalok' közül a From The Dust és The Fighter című számokban Petra Haden vokálozik (az utóbbiban hegedűn is közreműködik), de a legkülönlegesebb darab a You And I, mert itt Josh a basszustémát apjára bízta – és ez lett Charlie Haden utolsó felvétele, mielőtt július 11-én, 76 éves korában elhunyt."
a lemezpremier hivatalos lejátszója, melyen e cikk felkerülésekor még száz ember sem hallgatta meg az albumot:
a Love At First Sight klipje::
az előző Spain-kiadvány, a Haden nővérekkel közösen a Los Angeles-i KCRW rádióban rögzített 2013-as The Morning Becomes Eclectic Session EP felvételének teljes videója, beszélgetéssel együtt::
Nobody Has To Know 
Untitled #1 
She Haunts My Dreams 
I'm Still Free 
Walked On The Water 
Only One 
Spiritual 
a Spritual az egész Haden család előadásában, a Rambling Boy című Charlie Haden Family & Friends-album 2008-as megejelenésekor David Letterman műsorában:
az 1997-es Every Time I Try klipje Az erőszak vége című Wim Wenders-film képeivel:
a koncert oldala az A38 honlapján:
http://www.a38.hu/hu/program/spain-us
Déri Zsolt
további MusicPress-posztok a Facebookon és a Twitteren:
http://facebook.com/MusicPressBlog
http://twitter.com/MusicPressBlog