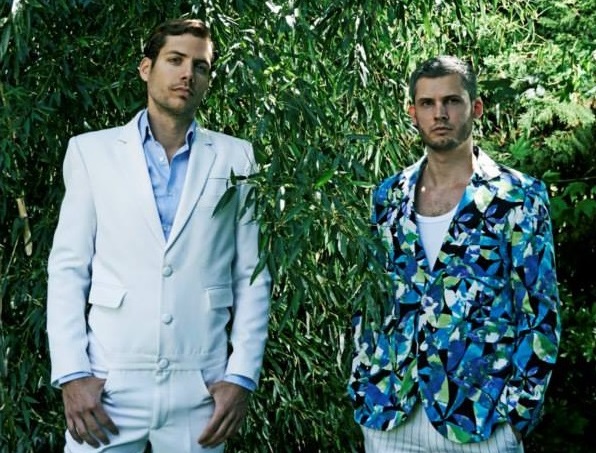 A U&I című KOLIN-szám februári premierje idején már szerepelt itt a MusicPress blogon Linczényi Márkó frontember másik együttese, a DJ-producer Papp Tamás (TMX) társaságában alakított Thomas Mark elektro-pop projekt. A duó a 2013-as Jean-Paul című négyszámos EP után idén különálló vokális dalok sorozatával jelentkezik, és ezek közül a legújabb a roppant slágeres Do It Right Now – és ez az a szám, aminek Pokorny Lia a címét keresi a legújabb Telenor/Deezer-kampány reklámfilmjében.
"A számban Hegyi Dóri énekel. Karakteres, domináns énekhangja van, és nagyon fegyelmezett, tudatos énekes. Szuperkönnyű volt vele dolgozni. A dalból készült egy Thomas Markhoz közelebb álló elektró-rádióverzió, amelyben szintén Dóri énekel. Hamarosan az a verzió is megjelenik." – mesélte a MusicPressnek Linczényi, aki a következő hetekben további számokat is közzétesz a Thomas Mark duóval, melyet idén nyártól rezidens DJ-párosként a Holdudvarban is rendszeresen láthatunk és hallhatunk.
a Do It Right Now gitárpop dominanciájú verziója Hegyi Dóra énekével:
a dal a Deezeren:
http://www.deezer.com/album/7868551
a reklámfilm Pokorny Liával:

az előző két Thomas Mark-szám, a márciusban bemutatott Found & Lost, egy másik magyar énekesnő, Bogi hangjával...
... és az egy hete közzétett IAWIA kislemezdal Michael Kentish énekével:

ráadásként itt a két legfrissebb Kolin-szám is, a márciusi Reflection...
...és a június 10-én megjelent Rise Of The Day:
Déri Zsolt
FRISSÍTÉS: a Michael Kentish által énekelt Thomas Mark-szám, a fentebb teljes hosszában már bemutatott IAWIA is bekerült egy reklámba – fiú és lány verzió is van belőle!
további MusicPress-posztok a Facebookon és a Twitteren:
http://facebook.com/MusicPressBlog
http://twitter.com/MusicPressBlog