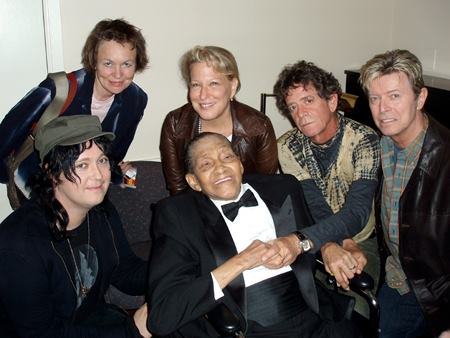 88 éves korában elhuny Jimmy Scott amerikai dzsesszénekes, aki páratlan hangját (és alacsony növését) egy genetikai betegségnek, a Kallmann-szindrómának köszönhette, mely miatt szervezete megrekedt a pubertás előtt. A negyvenes-ötvenes évek fordulóján tűnt fel olyan dzsesszlegendák mellett, mint Lionel Hampton vagy Charlie Parker (ekkor még "Little" Jimmy Scott néven), de karrierje hosszú szünet után a kilencvenes évek hajnalán lendült fel újra, mikor a Twin Peaks záró epizódjában is láthattuk (a Sycamore Trees című David Lynch/Angelo Badalamenti-szerzeménnyel, ami aztán a Tűz, jöjj velem! mozifilmbe és annak filmzenelemezére is átkerült), majd Lou Reed Power And Glory című dalában is hallhattuk. Énekelt David Byrne, Michael Stipe, Antony , Flea és a Pink Martini együttes társaságában is, sőt két amerikai elnök (Dwight Eisenhower és Bill Clinton) beiktatásán is, negyven év különbséggel! Még magyar lemezen is szerepelt: a Tony Lakatos Trio 2003-as I Get Along With You Very Well albumán három számban is közreműködött. A fenti képen a már említett Antony és Lou Reed mellett Laurie Anderson, Bette Midler és David Bowie körében láthatjuk.
"Little" Jimmy Scott a When Did You Leave Heaven című dallal az ötvenes években:
Jimmy Scott a Twin Peaksben a Sycamore Trees című dallal:

a  Power And Glory című Lou Reed-szám 1992-ből...
... és a teljes másfél órás Magic And Loss koncertfilm, ahol Jimmy Scott a Dirty Blvd. Satellite Of Love és Walk On The Wild Side című dalokban is énekel
1. "Dorita" 
2. "What's Good" 
3. "Power And Glory" 
4. "Magician" 
5. "Sword Of Damocles" 
6. "Goodby Mass" 
7. "Cremation" 
8. "Dreamin'" 
9. "No Chance" 
10. "Warrior King" 
11. "Harry's Circumcision" 
12. "Gassed And Stoked" 
13. "Power And Gloru Part II" 
14. "Magic And Loss" 
15. "A Dream" 
16. "Dirty Blvd." 
17. "Sweet Jane" 
18. "I'm Waiting For The Man" 
19. "Rock & Roll" 
20. "Satellite Of Love" 
21. "Walk On The Wild Side"
http://www.jimmyscottofficialwebsite.org
Déri Zsolt
további MusicPress-posztok a Facebookon és a Twitteren:
http://facebook.com/MusicPressBlog
http://twitter.com/MusicPressBlog