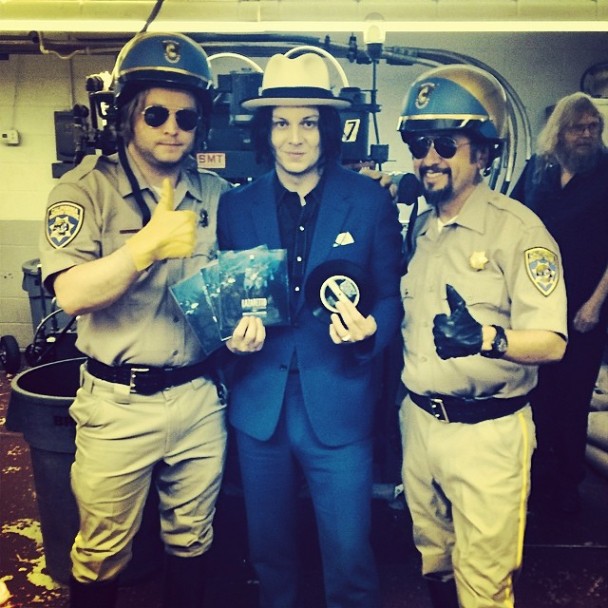 Jack White a húsvéti hétvégére eső idei Record Store Day alkalmából, április 19-én nemcsak Neil Young feldolgozáslemezét jelentette meg Third Man Records nevű kiadójánál (az A Letter Home borítóját és végleges dallistáját lásd itt a cikk alján!), de egy saját kiadványt is, mellyel világrekordot is felállított! A 38 éves gitáros-énekes, aki a decemberben piacra került Dead Weather-kislemez után 2014. április 1-jén egy instrumentális számmal jelentette be június 9-re Lazaretto című második szólóalbumát, az album címadó dalát egy különleges kiadványon hozta kereskedelmi forgalomba: a nashville-i Third Man koncerttermében, a Blue Roomban április 19-én helyi idő szerint reggel 10-kor kísérőzenészeivel élőben előadta szerzeményét (és a B-oldalra szánt Power Of My Love című Elvis Presley-feldolgozást), melyet ott rögtön a helyszínen acetátlemezre rögzítettek, majd a masztert motoros kísérettel átszállították a United Record Pressing épületébe, ahol elkezdték legyártani a kislemezeket (és hozzájuk a koncerten készült fotóra épülő borítókat), majd a kinyomott és becsomagolt példányokkal visszaszáguldottak a Third Man lemezboltjához. A hangfelvételtől a lemezek kereskedelmi forgalomba kerüléséig 3 óra 55 perc 21 másodperc telt el, ami világrekordnak számít. A kislemezről a Lazaretto című szám élő felvétele itt hallható. FRISSÍTÉS: a cikk felkerülése után három órával Jack White a dalból a stúdióverziót is közzétette – így már az is meghallgatható itt a cikk elején...
...és a stúdióverzióval egy időben egy kisfilmet is bemutattak a világrekord-akcióról:

a Lazaretto koncertfelvétele a világrekorder kislemezen: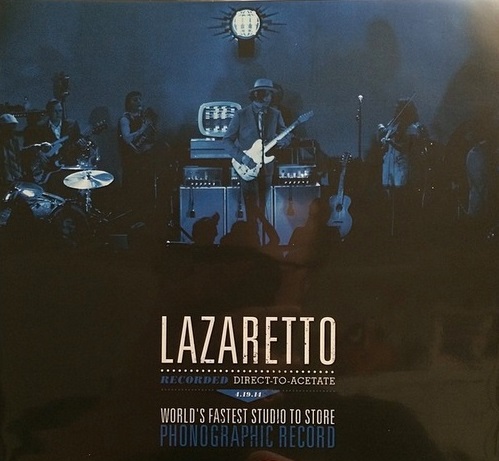 _
a kanadai Sonic 102.9 rádió élménybeszámolója és 7:20-tól a kislemez lejátszása:
a kislemez B-oldalára ennek a Power Of My Love című 1969-es Elvis Presley-számnak a feldolgozása került:

az új Jack White-stúdióalbum borítója és tervezett számlistája:
Jack White:
Lazaretto
(2014)

1: Three Women
2: Lazaretto
3: Temporary Ground
4: Would You Fight For My Love?
5: High Ball Stepper
6: Just One Drink
7: Alone In My Home
8: Entitlement
9: That Black Bat Licorice
10: I Think I Found The Culprit
11: Want And Able
Déri Zsolt
FRISSÍTÉS 2: április 22-én felkerült a netre a világrekorder kislemez B-oldalán hallható Power Of My Love című Elvis Presley-feldolgozás is!
Jack White játszott Elvist a Walk Hard (A lankadatlan) című 2007-es vígjátékban is!

FRISSÍTÉS 2: május 16-án a Lazaretto albumról a harmadik beharangozó szám is megérkezett Just One Drink címmel!
további MusicPress-posztok a Facebookon és a Twitteren:
http://facebook.com/MusicPressBlog
http://twitter.com/MusicPressBlog