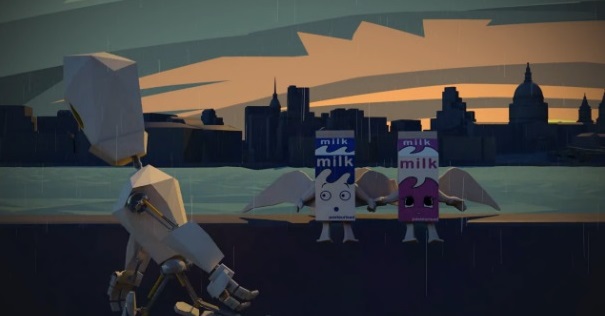 A Blur-frontember Damon Albarn április 28-án piacra kerülő első szólóalbumáról már a számok felét ismerhetjük: az Everyday Robots és Lonely Press Play klipekkel beharangozott 12 számos anyagról legutóbb március végén került sor gyors egymásutánban egyszerre három dal stúdiófelvételének premierjére is (Mr.Tembo, Hollow Ponds, You And Me), de közben azt sem felejtettük el, hogy az eddig közzétett legszebb számhoz, a Heavy Seas Of Love című Brian Eno-duetthez klippályázatot is meghirdettek még januárban a Genero.tv oldalán, a mostanában több interaktív videóba (Beck: Sound And Vision, Aloe Blacc: Love Is The Answer) is beszálló Lincoln autócég támogatásával. Nos a március végén lezárult verseny győztese egy lengyel videografikus-animátor, Jakub Romanowicz lett egy robotember londoni kalandjairól szóló kisfilmmel, melynek történetét a néző térbeli és időbeli döntésekkel irányíthatja. A nyertes pályaművet a múlt éjszaka a New York-i Tribeca Film Festival keretében is bemutatták egy Damon Albarn-minikoncertet is magában foglaló gálán, két másik párhuzamos klippályázat győztesével együtt: az Aloe Blacc-féle Ticking Bombhoz az indiai Mohit Israney, míg a Dead In The Water című Ellie Goulding-dalhoz egy magyar versenyző, Szabó Máté készítette a nyertes interaktív klipet!

a Tribeca Interactive & Interlude: A Music Film Challenge három győztese:

Damon Albarn: Heavy Seas Of Love (rendezte: Jakub Romanowicz)
https://v1.genero.com///watch-video/38137

Aloe Blacc: Ticking Bomb (rendezte: Mohit Israney)
https://v1.genero.com///watch-video/38176

Ellie Goulding: Dead In The Water (rendezte: Szabó Máté)
https://v1.genero.com///watch-video/38112
Szabó Máté videói a YouTube-on:
https://youtube.com/user/szabomate90/videos
http://genero.tv/Tribeca
http://genero.tv/blog/2014/tribeca-film-festival-official-results
http://tribecafilm.com/stories/tribeca-interactive-interlude-music-film-challenge-winners
http://www.damonalbarnmusic.com
Déri Zsolt
FRISSÍTÉS: Damon Albarn április 22-én a Heavy Seas Of Love-hoz egy hivatalos klipet is közzétett, de az nyomába sem ér a pályázatnyertes interaktív videónak!
további MusicPress-posztok a Facebookon és a Twitteren:
http://facebook.com/MusicPressBlog
http://twitter.com/MusicPressBlog</a