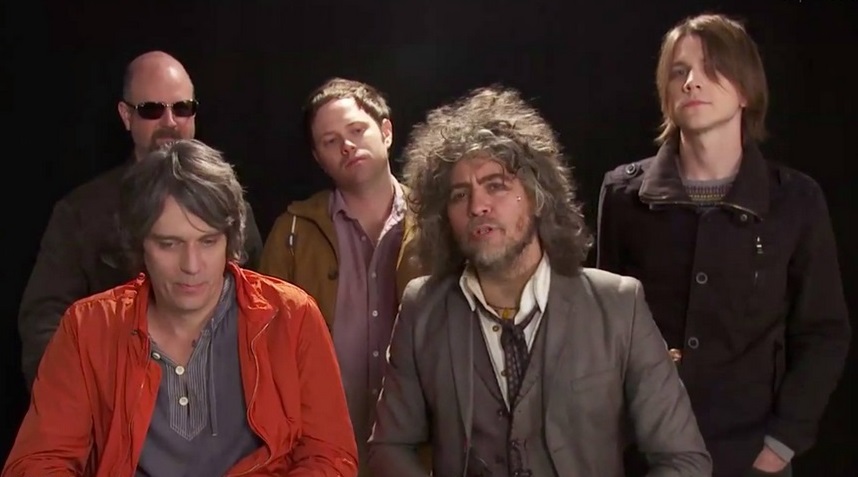 A bolondok napján érkeztek már fura produkciók (lásd Jack White lemezbejelentő instrumentális számát és videóját!), de a legtöbbet valószínűleg a Flaming Lips tagjai dolgoztak áprilisi tréfájukon: kiderült, hogy a SoundCloudon két napja közzétett Flaming Side Of The Moon című 43 perces anyag, melyet a Pink Floyd 1973-as The Dark Side Of The Moon albumának kísérőlemezeként hirdettek meg, valójában a vicces tartalmakra specializálódott Funny Or Die oldallal közös akcióként született, és a hangfelvétel mellé ma négy kapcsolódó videót is bemutattak.
Az elsőben egy marketingértekezleten tárgyalják a hoax sikerét (mármint azt, hogy a világ a Flaming Side Of The Moont egy kereskedelmi fogalomba kerülő igazi lemeznek hitte), és azon megy az ötletelés, hogy a zenekar milyen kommersz vállalkozásokkal csinálhatna még pénzt a jövőben – a 2002-es Yoshimi Battles The Pink Robots albumból például készülhetne egy sci-fi akciófilm Michael Bay szuperprodukciójában, amint azt a második videó már egy mozielőzetes formájában is szemlélteti! A harmadik kisfilmben egy tényleges zenészmúlttal bíró komikus, Fred Armisen próbálja átvenni Wayne Coyne frontemberi posztját egy meghallgatáson, a negyedik videó 43 percében viszont igazi munkát láthatunk: a Flaming Lips-tagok a Pink Floyd The Dark Side Of The Moon albumát hallgatva rögzítik hozzá a kiegészítő zeneanyagot. Ami (ha komoly albumként nem is jelenik meg) tényleg elkészült és tényleg működik az eredeti Pink Floyd-lemezzel együtt hallgatva, tehát az április tréfa mellé világ tényleg kapott egy izgalmas zenei élményt. (Szomorúságra csak az adhat okot, hogy Kliph Scurlock dobos egy bő évtized után már nincs ott Coyne-ék mellett: bár távozását hivatalosan még nem jelentették be, a legutóbbi fesztiválfellépésen és most ezen a stúdiófelvételen is a Stardeath And White Dwarfs-tag Matt Duckworth dobolt helyette, sőt a fenti friss zenekarképen is az új fiú látható hátul középen.)


a Funny Or Die oldalán közzétett videók:
"Wayne beleszarhatna egy csészébe, a Pitchfork arra is 8.7-et adna" – az értekezlet:
előzetes a Yoshimi album filmváltozatához Micheal Bay szuperprodukciójában:
Fred Armisen megpróbálja átvenni Wayne Coyne frontemberi posztját:
a Flaming Side Of The Moon felvételének teljes stúdióvideója:

"11 féle nélkülözhetetlen vitaminnal, ásványi anyaggal és kábítószerrel" – a Funny Or Die oldalán a Flaming Lips egy gabonapelyhes dobozzal is képviselteti magát, melynek hátlapján pont a hiányzó dobos, Kliph Scurlock látható, sőt ki is vágható: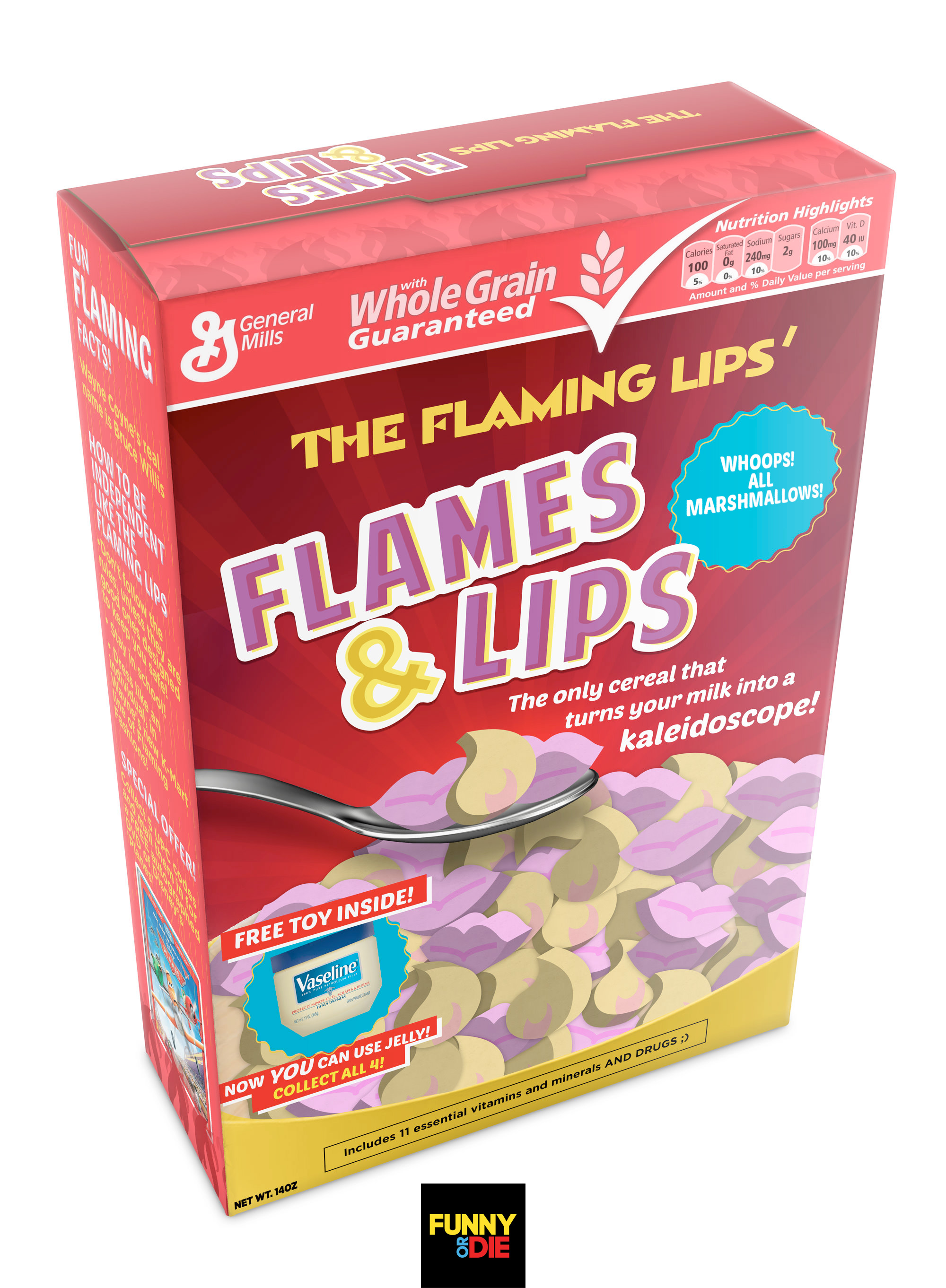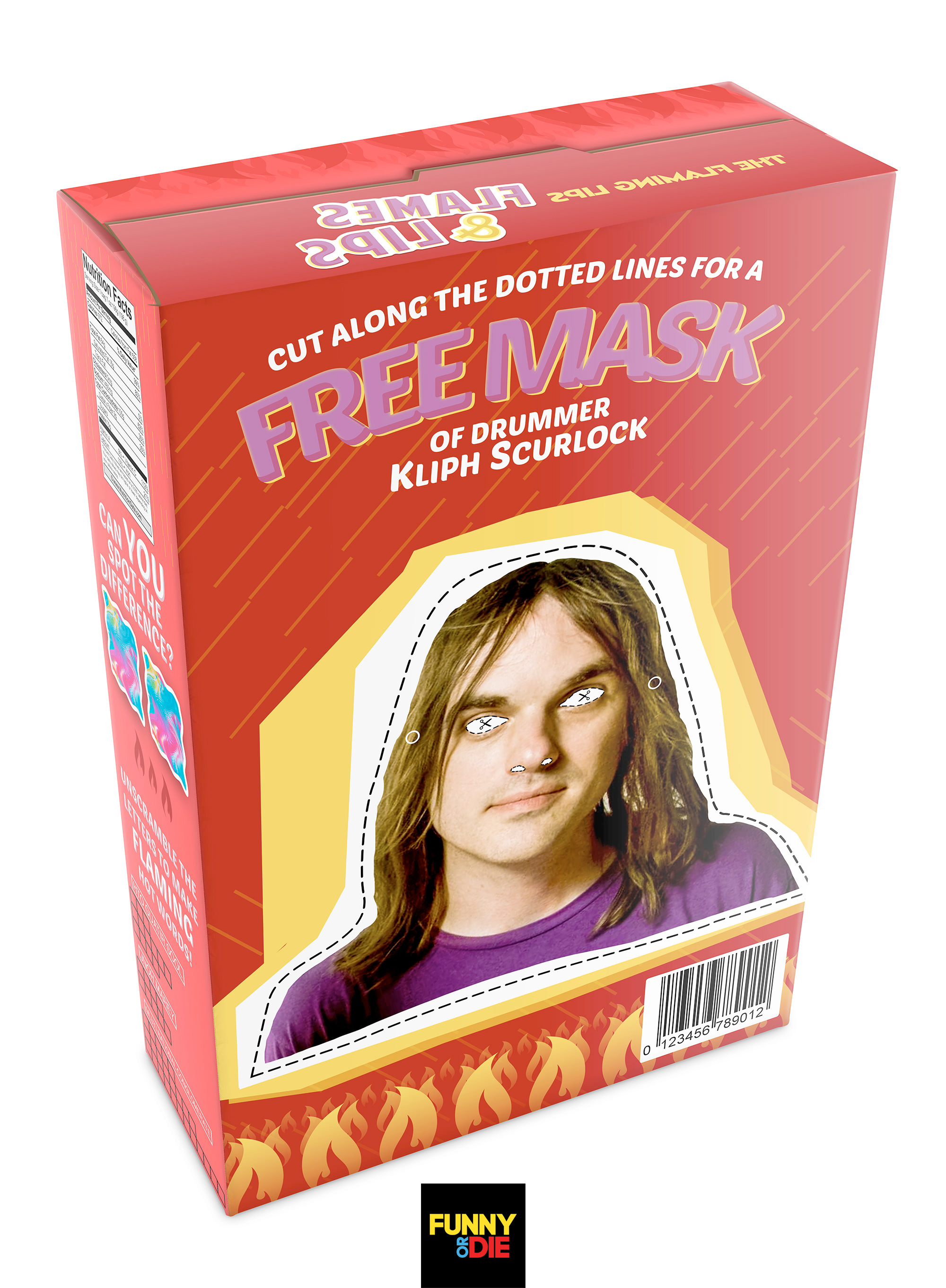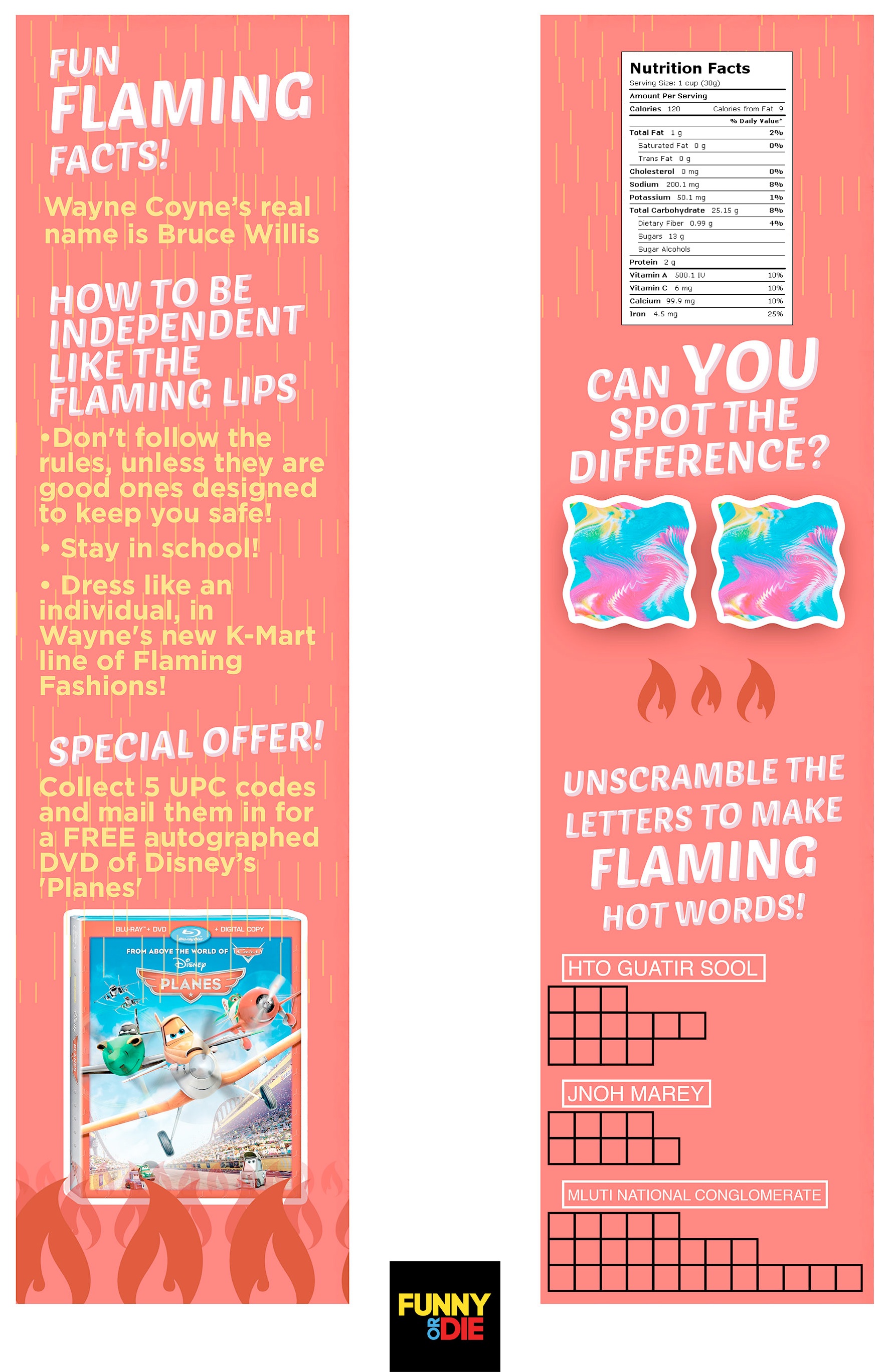 _
slusszpoénként pedig a New York magazin cikkének álcázva egy kommüniké, melyben Wayne Coyne lemond indie hitelességéről: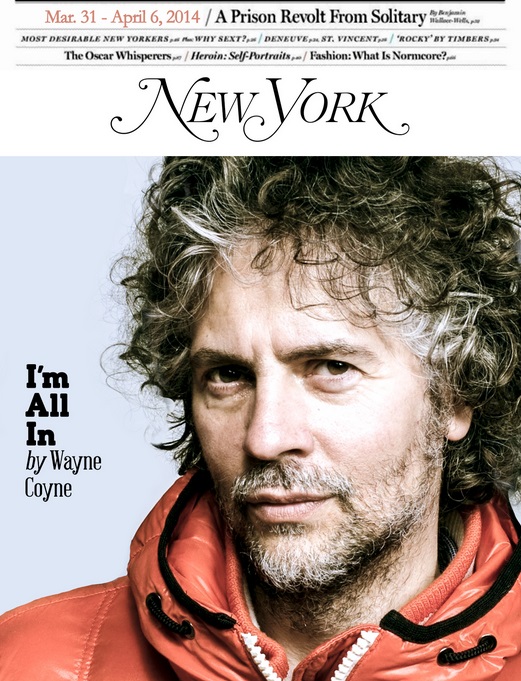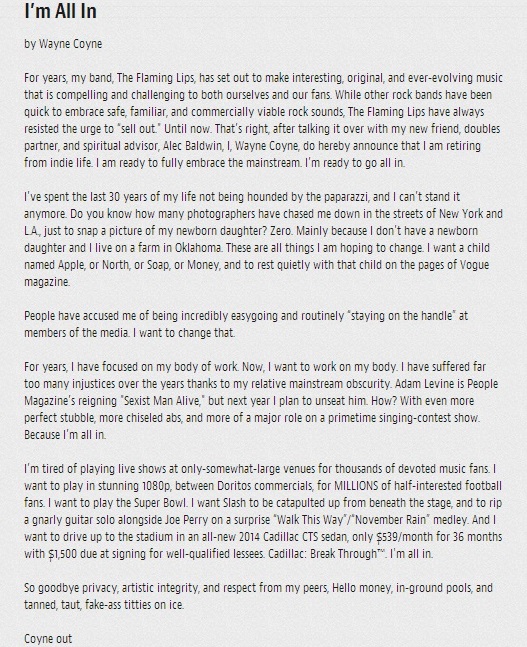 Déri Zsolt
FRISSÍTÉS: a Flaming Lips menedzsmentje pár nappal később hivatalosan is megerősítette, hogy Kliph Scurlock már nem tagja a zenekarnak,  maga a dobos pedig május 2-án egy hosszú levélben tette közzé kirúgásának körülményeit!
további MusicPress-posztok a Facebookon és a Twitteren:
http://facebook.com/MusicPressBlog
http://twitter.com/MusicPressBlog