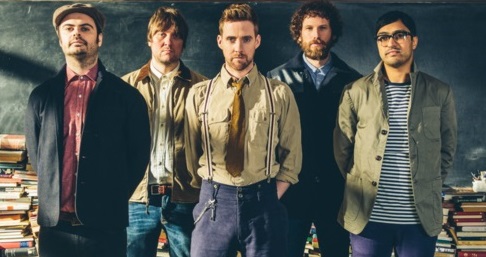 A brit The Guardian oldalán Johnny Cash elveszett/előkerült lemeze után pár perccel egy újabb teljes albumot is meghallgathatóvá tettek: a Kaiser Chiefs március 31-én megjelenő Education, Education, Education & War című új anyagát, melyet a leedsi zenekar már meghatározó dalszerzőjének, Nick Hodgson dobos-vokalistának a 2012-es távozása után készített, egy új ütőssel, a szintén leedsi Club Smith-ből érkező Vijay Mistryvel. Az új lemezt beharangozó összeállításba a tél folyamán három dal stúdiófelvétele is bekerült (élen a Jack White-tól kapott címet viselő Misery Companyvel), de az album legjobb reklámkampánya maga Ricky Wilson frontember volt, aki új (sovány) kinézetével a brit The Voice zsűritagjaként hódított meg minden korábbinál szélesebb közönséget.
Az Amerikában, Ben H. Allen III amerikai producer (Cults, Animal Collective, Deerhunter stb.) segédletével rögzített új Kaiser Chiefs-lemez – melynek The Factory Gates, Ruffians On Parade és Cannons című dalaihoz egy külső dalszerző, Fraser T. Smith (Plan B, James Morrison, Adele,stb.) szolgálatait is igénybe vették – itt már megjelenés előtt végighallgatható.
FRISSÍTÉS: az album a YouTube-on, a végén a deluxe kiadás két bónuszdalával!
The Factory Gates
Coming Home
Misery Company
Ruffians On Parade
Meanwhile Up In Heaven
One More Last Song
My Life
Bows & Arrows
Cannons
Roses
+
Song For Stephanie
The Nerve
.
a Coming Home videoklipje:
Déri Zsolt
további MusicPress-posztok a Facebookon és a Twitteren:
http://facebook.com/MusicPressBlog
http://twitter.com/MusicPressBlog