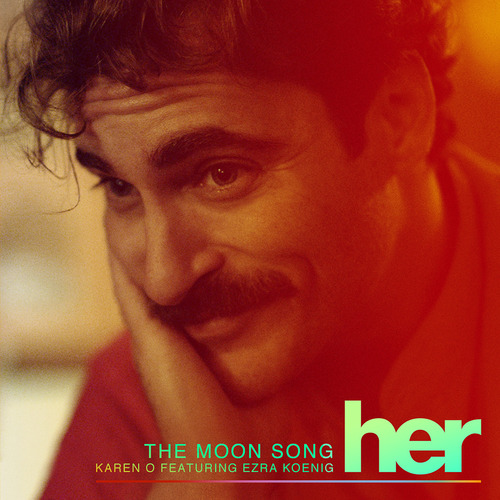 A Yeah Yeah Yeahs-énekesnő Karen O legutóbb egy könnyed Bob Marley-feldolgozással jelentkezett, most viszont egy saját szerzeményéből csinált új verziót: A nő című filmhez Spike Jonze rendezővel közösen komponált The Moon Song című Oscar-jelölt betétdalát vette újra. A film végefőcím-stáblistája alá került lo-fi eredetit még a saját lakásában az ebédlőasztalon rögzítette, ám most egy rendes stúdióba vonult és a Vampire Weekend énekesével, Ezra Koeniggel közösen vette fel újra a dalocskát, mely magában a filmben is duettként, a főszereplő páros, Scarlett Johansson és Joaquin Phoenix hangjával hallható először. (Az Oscar-jelölt betétdal alatt a film Oscar-jelölt aláfestő zenéje is meghallgatható a zeneszerző-hangszerelő-hegedűs Owen Pallett és az Arcade Fire előadásában.)
a filmben Joaquin Phoenix és Scarlett Johansson duettjeként:
a végefőcím alatt hallható első verzió:

a teljes Owen Pallett/Arcade Fire-féle filmzenelemez, melynek esetleges hivatalos megjelenéséről furamód még nincsenek hírek:
Sleepwalker 
Milk & Honey 
Loneliness (Night Talking) 
Divorce Papers 
Morning Talk/Supersymmetry 
Song On The Beach
Some Other Place 
Owl 
Loneliness (Other People's Letters) 
We're All Leaving
Photograph 
Dimensions
Milk & Honey (Alan Watts & 641) 
http://www.owenpalletteternal.com
Déri Zsolt
FRISSÍTÉS: a cikk felkerülése után pár órával Karen O élőben is előadta dalát az Oscar-jelölteket ünneplő The Hollywood Reporter magazin által szervezett bulin, egy Beverly Hills-i klubban, ahol aztán a Yeah Yeah Yeahs repertoárjából is elénekelt egy kicsit!
további MusicPress-posztok a Facebookon és a Twitteren:
http://facebook.com/MusicPressBlog
http://twitter.com/MusicPressBlog