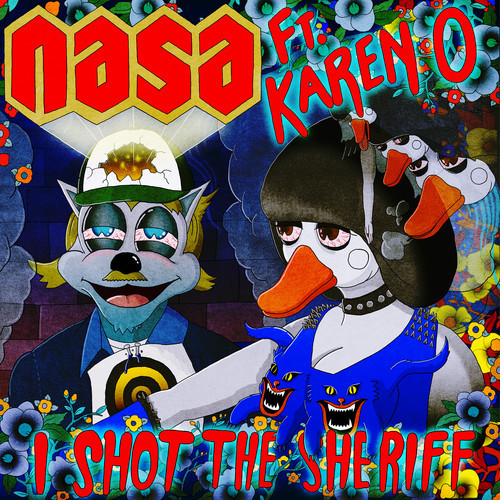 Az elmúlt napot a feldolgozások uralták, a Lana Del Rey által elénekelt Disney-betétdal (Once Upon A Dream) és a Chvrches-féle Bela Lugosi's Dead mellett egy teljes feldolgozásalbumot is hallhattunk (Sweetheart 2014). Ez utóbbit épp egy Bob Marley-átirat nyitotta, és épp a reggae legendás hősének egyik szerzeményét énekli most a Yeah Yeah Yeahs frontleánya is: Karen O-t A nő című filmhez Spike Jonze rendezővel közösen írt The Moon Song betétdalért épp a múlt héten jelölték Oscarra, most meg a rendező öccsének, Sam Spiegelnek az N.A.S.A. nevű projektjével közösen tett közzé egy I Shot The Sheriff feldolgozást egy reklámfilmhez. Az énekesnőnek és a Squeak E. Clean művésznév alatt is ismert DJ-producernek nem ez az első ilyen közös munkája: már Spike Jonze 2005-ös Adidas-reklámfilmjéhez is együtt írtak és rögzítettek egy dal, később Sam producerkedett a 2006-os Yeah Yeah Yeahs-lemezen, a YYY-tagok beugrottak a 2009-es The Spirit Of Apollo című N.A.S.A.-album sztárvendégei közé, Sam pedig segédkezett Karen 2011-es Stop The Virgens című pszicho-operájának zenei munkálataiban. Ez a mostani Marley-feldolgozásuk sajnos nem tartozik a jelentős munkáik közé, de azért álljon itt a maga könnyed mivoltában.
a feldolgozás a SONOS vezeték nélküli hangrendszer friss reklámfilmjében:
az I Shot The Sheriff eredetije a Wailers 1973-as Burnin'' albumáról:

az amerikai Sam Spiegel (Squeak E. Clean) és a brazil Ze Gonzales (DJ Zegon) közös N.A.S.A. (vagyis: North America/South America) projektjének 2009-es első albumáról itt a Strange Enough című szám, melyben Karen O mellett két rapper, a Los Angeles-i The Pharcyde hiphop kollektívából ismert Fatlip és az akkor már rég halott Ol' Dirty Bastard hallható:
Spike Jonze sokszoros díjnyertes 2005-ös Adidas-reklámfilmje, a Hello Tomorrow, melynek azonos című dalához Sam Spiegel írta a zenét, Karen a szöveget:

Sam és Karen ezen a 2011-es fotón épp a Stop The Virgens című opera előkészületei idején láthatók, háttérben az író-rendező Adam Rapp-pel: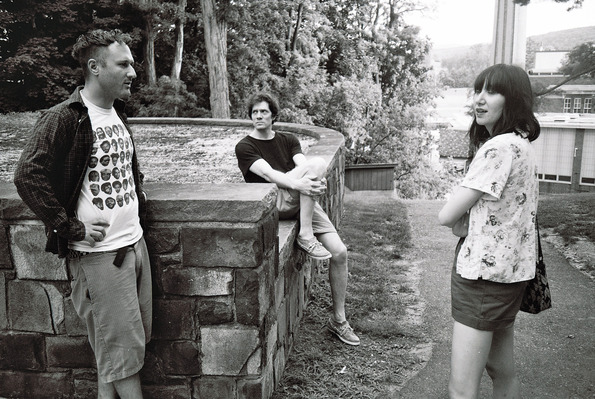 _
az N.A.S.A. duó legjobb fotója: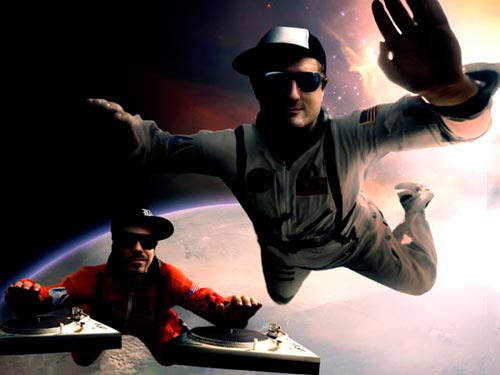 https://facebook.com/northamericasouthamerica
Déri Zsolt
FRISSÍTÉS: április 25-én videoklip is érkezett az I Shot The Sheriff feldolgozáshoz! 
további MusicPress-posztok a Facebookon és a Twitteren:
http://facebook.com/MusicPressBlog
http://twitter.com/MusicPressBlog