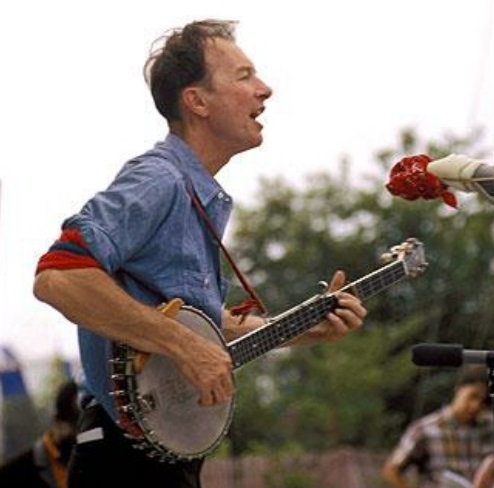 94 éves korában elhunyt Pete Seeger, az amerikai folk mozgalom egyik legnagyobb alakja, aki a tradicionális népdalörökség ápolása mellett olyan számok szerzője is volt, mint az If I Had A Hammer, a Where Have All the Flowers Gone? vagy a Turn, Turn, Turn! (ez utóbbi a Byrds együttes feldolgozásában a folk-rock egyik alapdarabjává vált, míg a Hová tűnt a sok virág? még Marlene Dietrich előadásában is világláger lett). Az 1919-es születésű Seeger nemcsak zeneileg, de politikai kiállását tekintve is óriási hatással volt Bob Dylan és Joan Baez generációjára, nagy szerepe volt abban, hogy a We Shall Overcome című spirituálé a polgárjogi mozgalmak himnuszává lett, és Bruce Springsteen is a We Shall Overcome: The Seeger Sessions címet adta lemezének 2006-ban, mikor egy teljes albummal tisztelgett "az amerikai folk zene atyja" előtt.

Pete Seeger: The Power Of Song  – a teljes 2007-es dokumentumfilm, melyben Bruce Springsteen mellett Joan Baez, a Dixie Chicks-tag Natalie Maines, Arlo Guthrie és a Peter Paul & Mary trió tagjai is megszólalnak:
az If I Had A Hammer 1956-ból:
a Where Have All The Flowers Gone? egy 1968-as koncerten:
Bob Dylan és Pete Seeger 1963-ban a Newport Folk Festival színpadán: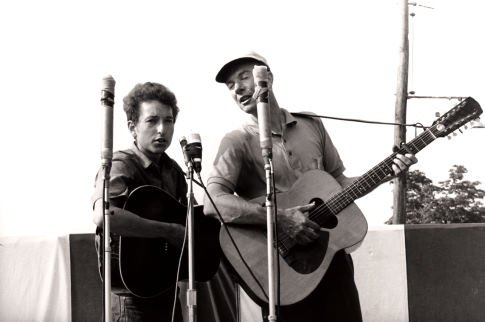 _
közös fellépés Johnny Cash-sel 1970-ben:
unokájával, a folk-rocker Tao Rodríguez-Seegerrel és Bruce Springsteennel 2009-ben Barack Obama beiktatási ünnepségén: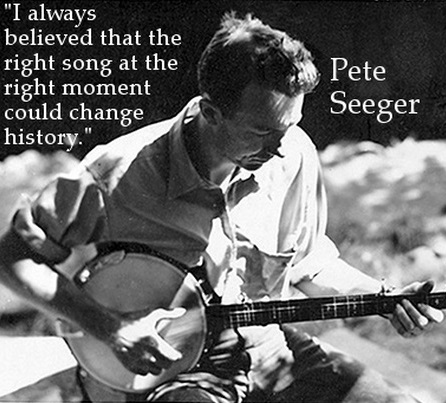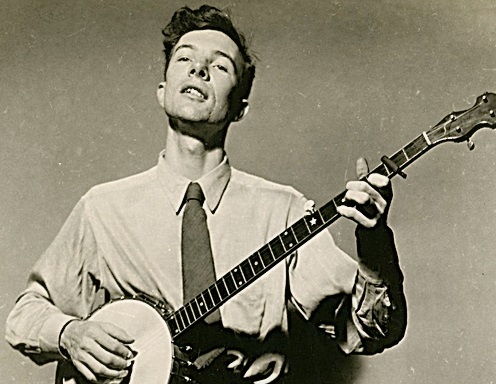 _
Déri Zsolt
FRISSÍTÉS: Frank Turner a We Shall Overcome előadásával tiszteleg Seeger emléke előtt a brit köztévé műsorában!
további MusicPress-posztok a Facebookon és a Twitteren:
http://facebook.com/MusicPressBlog
http://twitter.com/MusicPressBlog