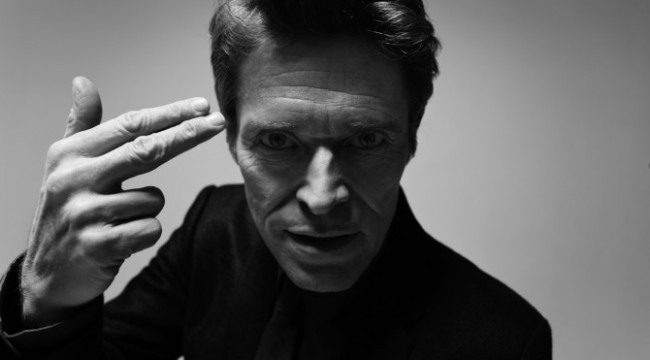 A manchesteri Neil Claxton tánczenei projektje, a Mint Royale a Tequila című Terrorvision-dal 1999-es bigbeat remixével tűnt fel a brit slágerlista élbolyában, majd a következő évtized közepén egy Singin' In The Rain átirattal aratott még nagyobb sikert (azon a 2005-ös See You In The Morning albumon egy Duffy nevű walesi lányka is énekelt három évvel a nagy befutása előtt), de úgy tűnik, Claxton a 2010-es években elő tud állni valami izgalmassal: a Ring című legújabb Mint Royale-kislemezen – mely Amerikában hivatalosan december 31-én, Nagy-Britanniában január 1-jén jelenik meg – nem más a sztárvendég, mint az amerikai színészóriás, Willem Dafoe!
Claxton a Robert Wilson által rendezett The Life And Death of Marina Abramovic című kortárs operában látta Dafoe-t színpadon, majd egy vele készült podcast interjút hallgatva jött rá, hogy a színész lesz az ideális hang a következő Mint Royale-számhoz, melynek életvezetési tanácsokat adó szövege egy szintén manchesteri forgatókönyvíró haver, Danny Brocklehurst közreműködésével született.

Willem Dafoe a Marina Abramovic élete és halála című 2011-es operában:

Willem Dafoe A holló című Poe-verssel Lou Reed 2003-as The Raven albumán:


a Blue Song című 2002-es Mint Royale-szám klipje Noel Fielding főszereplésével, Edgar Wright rendezésében...
...és a dal élő előadása a vendégénekes Steve Wrennel egy korabeli tévéfellépésen, ahol a szemüveges Neil Claxtont a billentyűk mögött láthatjuk:
a 2005-ös Singin' In The Rain, mely 2008-as újrakiadásakor No.1 lett a brit listán:
a 2013 májusában megjelent visszatérő EP-nek, a GTFU-nak a címadó száma:
Déri Zsolt
további MusicPress-posztok a Facebookon és a Twitteren:
http://facebook.com/MusicPressBlog
http://twitter.com/MusicPressBlog