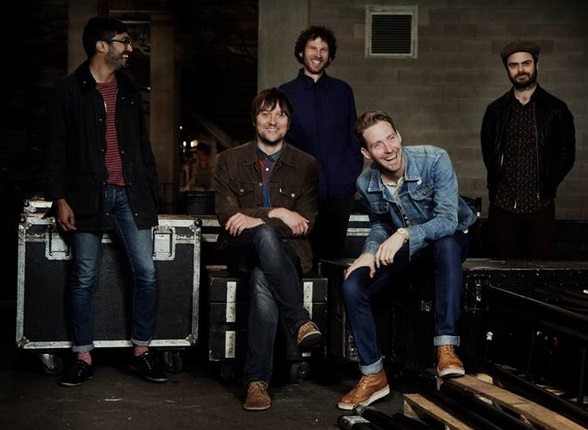 A Magyarországon is többször koncertező leedsi Kaiser Chiefs a 2011-es The Future Is Medieval (amerikai címverziójában: Start The Revolution Without Me) albumot követő Souvenir: The Singles 2004–2012 válogatással korszakhatárt húzott, már csak azért is, mert utána kilépett az alapító dobos, a dalszerzőként, producerként és vokalistaként is jeleskedő Nick Hodgson, a többiek pedig 2013-tól új dobossal, a szintén leedsi Club Smith együttesből átigazolt Vijay Mistryvel folytatták. Az Education, Education, Education & War című következő Kaiser Chiefs-album 2014. március 31-én jelenik meg, de már most meghallgatható róla az első kislemezdal, a Misery Company, melynek címe nem mástól származik, mint Jack White-tól, aki még 2008-ban írt össze pár lemezcímtippet Ricky Wilson zenekarának.
Jack White saját kezűleg írt címtippjei 2008-ból: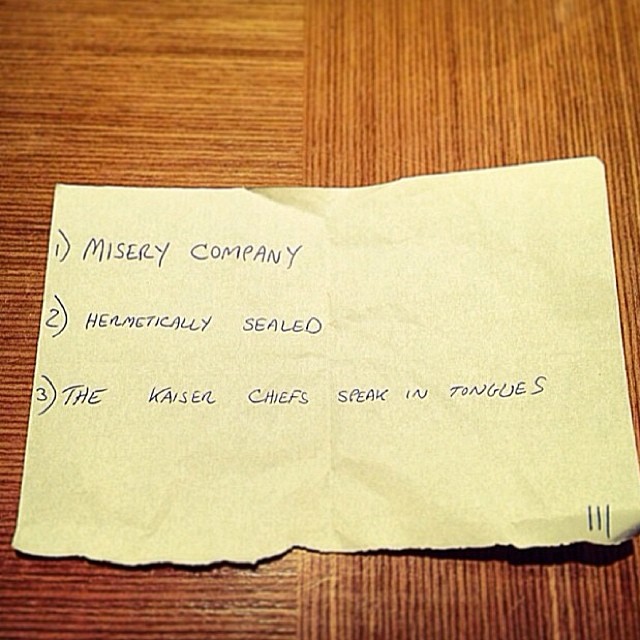 _ 
az új album dallistája:
Kaiser Chiefs:
Education, Education, Education & War
(2014)

1. The Factory Gates
2. Coming Home
3. Misery Company
4. Ruffians On Parade
5. Meanwhile Up In Heaven
6. One More Last Song
7. My Life
8. Bows & Arrows
9. Cannons
10. Roses
a zenekar koncertprogramjába idén már be is került a közelgő albumról pár új dal, mint a Coming Home vagy a Bows & Arrows:
Déri Zsolt
FRISSÍTÉS: 2014. január 3-án a Bows & Arrowsból is megérkezett a stúdióverzió!
FRISSÍTÉS 2: február közepén megjött a Coming Home című dal stúdióverziója is, sőt az albumborító is, melyhez a brit értékek előtt tisztelegni kívánó Kaiser Chiefs a logót a bicikli- és motorkerekekre, kerékagyakra és agyváltókra specializálódott Sturmey-Archer cégtől kölcsönözte – anélkül, hogy a több mint százéves múltra visszatekintő céget erről megkérdezte volna (szóval most épp botrány van)!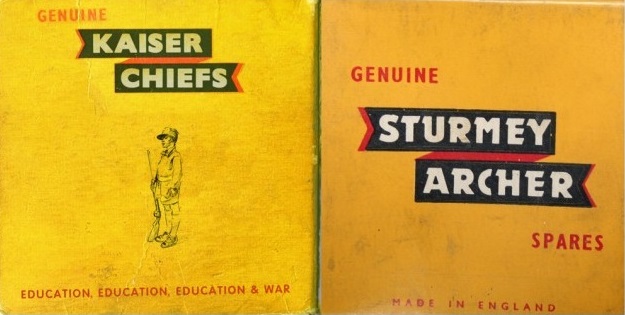 _

FRISSÍTÉS 3: február 21-én a Coming Home-hoz videoklip is érkezett!
további MusicPress-posztok a Facebookon és a Twitteren:
http://facebook.com/MusicPressBlog
http://twitter.com/MusicPressBlog