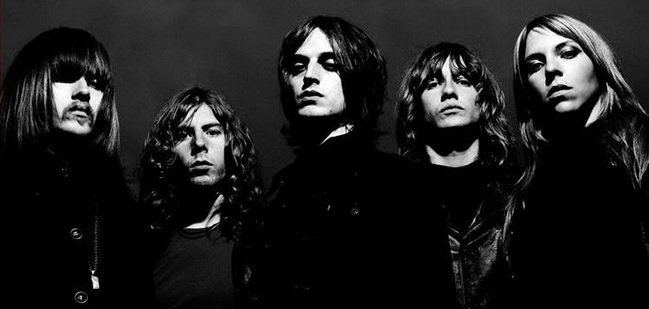 A Horrors köreibe tartozó – szintén sötét poszt-punkból, pszichedéliából és némi krautrockból építkező – londoni Toy együttes 2012 őszén jelentette meg címnélküli bemutatkozó albumát, de alig több mint egy évvel később már el is készült a folytatással, ráadásul a 2013. december 9-én érkező Join The Dots című második nagylemezhez pár hete bejelentett turné 2014. március 21-én a Dürer Kertbe is eljut, úgyhogy már el kezdhetünk is készülni: a Guardian oldalán pár perce közzétett új Toy-anyag – melyet a gitáros-énekes Tom Dougall és zenésztársai ismét Dan Carey (Franz Ferdinand, Mystery Jets, Bat For Lashes stb.) produceri segédletével rögzítettek – itt a MusicPress blogon is végighallgatható megjelenés előtt.
FRISSÍTÉS: az album a YouTube-on is!
01 - Conductor
02 - You Won't Be The Same
03 - As We Turn
04 - Join The Dots
05 - To a Death Unknown
06 - Endlessly
07 - It's Been So Long
08 - Left To Wander
09 - Too Far Gone To Know
10 - Frozen Atmosphere
11 - Fall Out Of Love

a Join The Dots album címadó kislemezdalának videója...

a 2012-es címnélküli első Toy-album:
Colours Running Out
The Reasons Why
Dead & Gone
Lose My Way
Drifting Deeper
Motoring (+ a kislemezének When I Went Back című B-oldalas száma)
Heart Skips A Beat
Strange
Make It Mine
Omni
Walk Up To Me
Kopter
a budapesti koncert Facebook-eseményoldala:
http://facebook.com/events/183114941881210
Déri Zsolt
további MusicPress-posztok a Facebookon és a Twitteren:
http://facebook.com/MusicPressBlog
http://twitter.com/MusicPressBlog