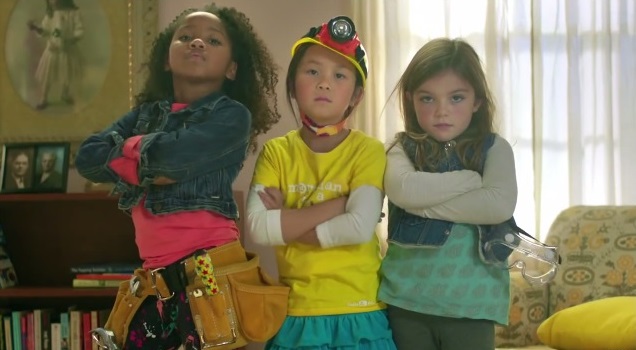 "Girl Power – gyereklányoknak! Kifordított Beastie Boys-dal a GoldieBlox játékgyártó cég Rube Goldberg-gépre komponált reklámjában!" – pár napja a MusicPress Facebook-oldalára kitett posztban már szerepelt ez a kisfilm, melyben kislányok éneklik a New York-i rappererek egy 1986-os slágerének, a viccesen szexista Girls című számnak az átírt szövegű verzióját (arról, hogy a lányok a babák és hercegnős játékok helyett intelligenciára és technikai tudásra is alapozhatnak), de azóta a már 7 milliós nézettség fölött járó Princess Machine vírusvideóból peres ügy lett. A Beastie Boys még csak fenyegetőzött a bírósággal, ám a mérnök végzettségű Debbie Sterling által alapított játékgyártó cég már megelőzésként be is nyújtotta a maga periratát a rapperek és társszerző-producerük, Rick Rubin (továbbá publishing és lemezcégük) ellen egy olyan bírósági végzés reményében, hogy a szerzemény használata a "paródia videóban" ne számítson jogtiprásnak (a három Beastie Boys-tag közül a tavaly elhunyt Adam Yauch, azaz MCA végrendeletében megtiltotta, hogy dalaikat hirdetésekhez adják, Mike D és Ad-Rock pedig e pillanatban is perben állnak a Monster energiaital-céggel, mert annak egyik rendezvényét egy Beastie-mixszel aláfestett videó reklámozta).
FRISSÍTÉS: a reklám a Disclose.tv oldalán!
http://disclose.tv/action/viewvideo/157746/GoldieBlox_Rube_Goldberg__Beastie_Boys_Princess_Machine_a_concert_for_little_girls
werkfilm a forgatásról a dalt éneklő nyolcéves Raven főszereplésével:
Girls.
You think you know what we want, girls.
Pink and pretty it's girls.
Just like the 50's it's girls.
You like to buy us pink toys
and everything else is for boys
and you can always get us dolls
and we'll grow up like them... false.
It's time to change.
We deserve to see a range.
'Cause all our toys look just the same
and we would like to use our brains.
We are all more than princess maids.
Girls to build the spaceship,
Girls to code the new app,
Girls to grow up knowing
they can engineer that.
Girls.
That's all we really need is Girls.
To bring us up to speed it's Girls.
Our opportunity is Girls.
Don't underestimate Girls


az 1986-os Beastie Boys-dal az eredeti dalszöveggel, melyben a lányok feladata a főzés, mosás, takarítás, meg hogy jól nézzenek ki és mondjanak igent a szexre: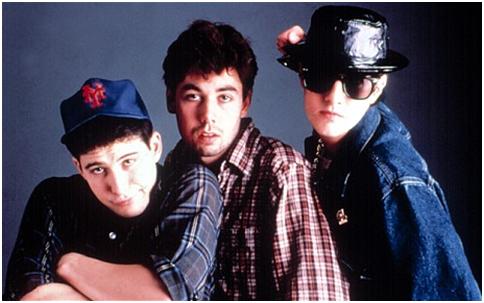 _
a játékcég által benyújtott perirat szövege itt olvasható:
http://www.scribd.com/doc/186402972/Beastie

ráadásként itt van két Rube Goldberg-gépre komponált videoklip, a Braverytől a 2005-ös An Honest Mistake és az OK Go-féle 2010-es This Too Shall Pass: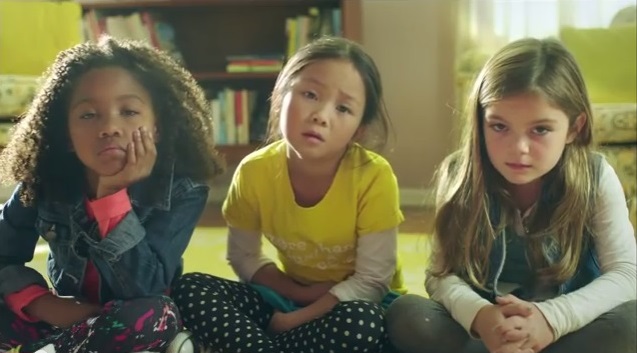 http://www.goldieblox.com
http://www.beastieboys.com
Déri Zsolt
FRISSÍTÉS: november 25-én a Beastie Boys nyílt levélben reagált a GoldieBlox akciójára!

_
FRISSÍTÉS 2: november 27-én a GoldieBlox igazgatónője és stábtagjai egy nyílt levélben szeretetükről és rajongásukról biztosították a Beastie Boys-tagokat és jelezték, hogy hajlandóak leállítani az általuk indított pert (ha a rapperek nem perlik be őket). jóindulatuk jelélül pedig máris eltüntették YouTube-oldalukról az ominózus reklámot, majd egy másik verziót tettek fel helyette, más zenével, dalszöveg nélkül!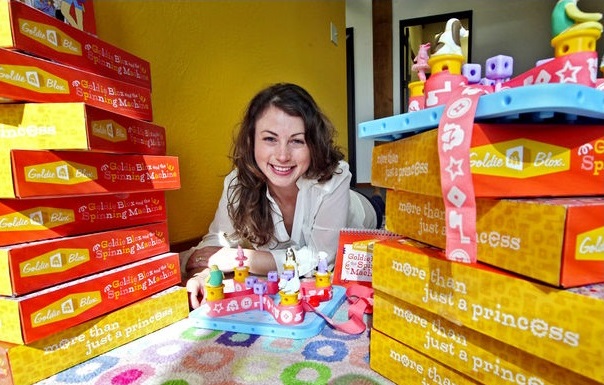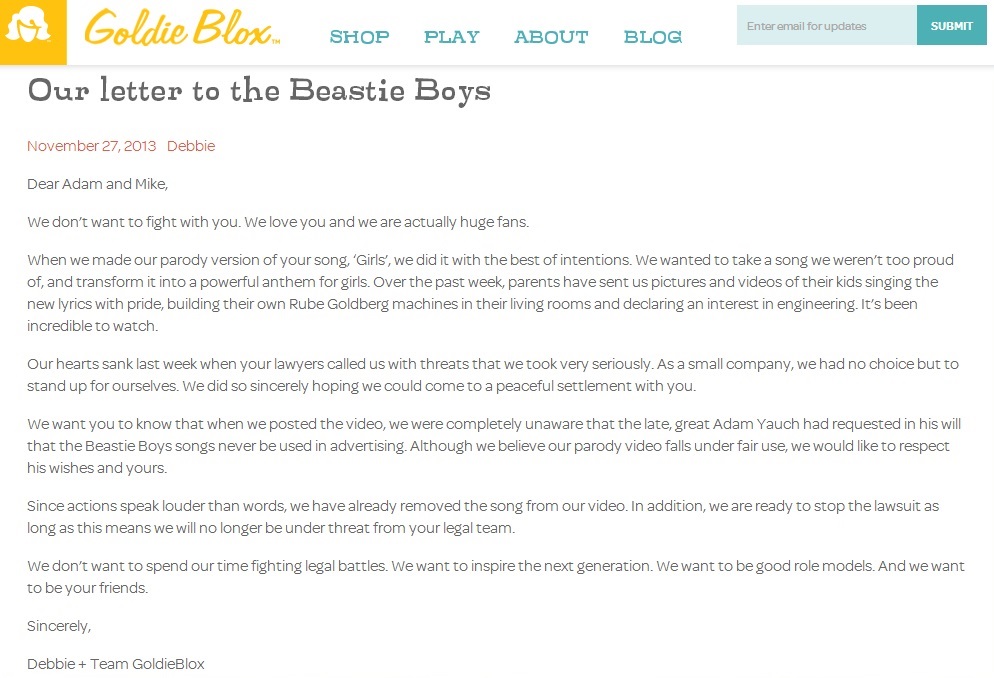 _
FRISSÍTÉS 3: nos, a dolognak ezzel mégsem lett vége, mert december 10-én a Beastie Boys viszontkeresetet nyújtott be a GoldieBlox ellen, amint itt a periratban is olvasható!
http://scribd.com/doc/190846300/Beastie-Boys-Response-to-GoldieBlox

FRISSÍTÉS 4: az ügy 2014. március közepére peren kívüli megállapodással lezárult!
további MusicPress-posztok a Facebookon és a Twitteren:
http://facebook.com/MusicPressBlog
http://twitter.com/MusicPressBlog