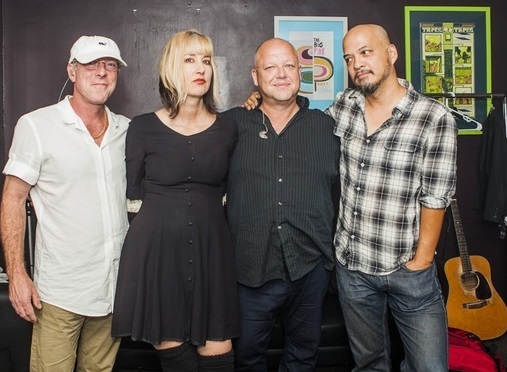 A bő egy évtized szünet után 2004-ben összeállt, majd új lemez nélküli nosztalgiaturné-sorozatba ragadt Pixies 2013-ban végre friss számokkal jelentkezett, bár egyelőre ebben nem volt sok köszönet, kezdve attól, hogy júniusban hírt kaptunk a zenekar legnagyobb közönségkedvenc tagjának, a basszusgitáros-vokalistanő Kim Dealnek a távozásáról, a pár héttel később kiadott Bagboy című új Pixies-dalban hallható tipikus Kim Deal-vokálokról pedig idővel kiderült, hogy azokat egy külsős zenészhaverral (ráadásul egy férfival) énekeltette fel a zenekarvezető Black Francis, aki Kim megüresedett posztjára meg épp egy azonos keresztnevű új tagot vett fel (Kim Shattuckot, a Los Angeles-i The Muffs frontleányát). Sajnos a trióként felvett új dalt követő négyszámos EP1 sem lett túl fényes anyag, de legalább azt elmondhatjuk, hogy a zenekar 1989-1991 közti producere, Gil Norton is visszatért a 2012 végén (de már akkor is Kim Deal nélküli triófelállásban) rögzített kiadványhoz, ami több mint két évtized óta a a Pixies első igazi kézzel fogható lemeze. A vinyl formátumban is megjelent négyszámos EP1-hez az elmúlt éjszaka folyamán már egy harmadik videoklip is érkezett, így álljon itt egybegyűjtve az összes eddigi 2013-as Pixies-szám, a legvégén a legfrissebb What Goes Boom videóval, melyben Joey Santiago gitáros a főszereplő.
a júniusban digitális letöltésként közzétett Bagboy két klipje:

a szeptemberben magánkiadásban megjelent EP1 négy dala sorrendben:
1. Andro Queen
2. Another Toe In The Ocean
3. Indie Cindy
4. What Goes Boom
Déri Zsolt

FRISSÍTÉS: az európai turnéját november 25-én befejező (de januártól már újra koncertező) Pixies november 29-én – öt hónap után – kirúgta a Kim Deal helyére felvett Kim Shattuckot, akit ez az alábbi Facebook-bejegyzése szerint váratlanul ért! Most mi lesz? Visszajön Kim Deal? Vagy beveszik Kim Gordont?!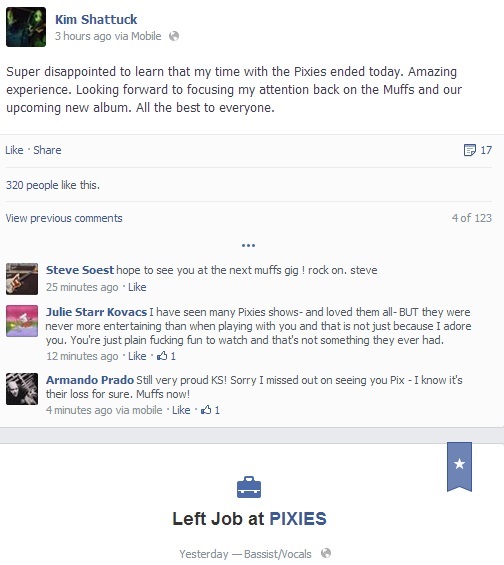 _

FRISSÍTÉS 2: a Pixies december 8-án nemcsak új basszusgitárosnőt jelentett be Paz Lenchatin (A Perfect Circle, ZWAN) személyében, hanem pár perccel később az Another To In The Ocean című dalhoz egy videót is közzétett !
további MusicPress-posztok a Facebookon:
http://facebook.com/MusicPressBlog