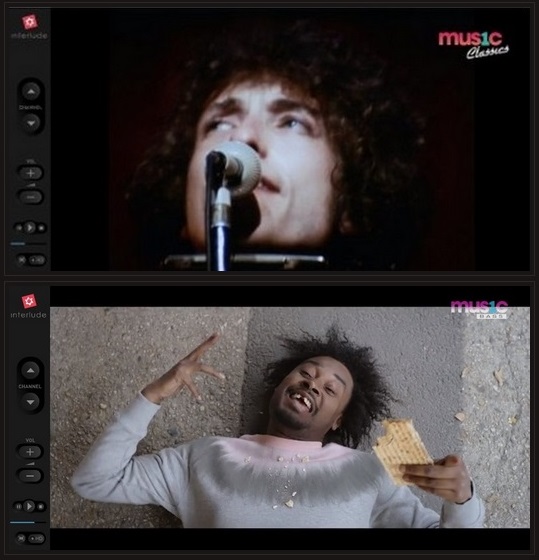 Oké, ez lesz ma a legzseniálisabb dolog az interneten: Bob Dylan 1965-ös klasszikus dalához, a folk énekes elektromos hangszerelésre váltásának meghatározó példájához, a Like a Rolling Stone-hoz csaknem fél évszázad után hivatalos videoklip készült, ráadásul interaktív darab, ahol egy tévéképernyőn a csatornaváltóra klikkelve tucatnyi fiktív műsor (szappanoperák, valóságshow-k, dokumentumfilmek, sport- és hírműsorok, sőt egy eredeti korabeli Dylan-koncertfelvétel és a rapper Danny Brown 122-es csatornán látható klipje) között váltogatva nézhetjük, amint az adott program szereplői eltátogják a dalt, mintha ők énekelnék Bob Dylan sorait. A technikailag is zseniális interaktív klip alatt a MusicPress még azt is megmutatja, amit más blogok nem: hogy honnan lopták az alapötletét!
az izraeli Vania Heymann által rendezett klip itt nagyobb méretben is látható:
http://video.bobdylan.com/desktop.html
...és ahonnan az alapötletet vették: a britpop korszak zenekarainak (Suede, Pulp, Blur, Travis stb.) rendezett klipjeivel elhíresült magyar származású brit Pedro Romhanyi 2001-es videója a walesi Super Furry Animals együttes (Drawing) Rings Around The World című dalához!

érdekesség, hogy egy ősrégi Beatles-felvételhez, a Words Of Love című Buddy Holly-dal 1963-as feldolgozásához is pont most készült fél évszázad után egy szellemes videoklip, hogy az On Air – Live At The BBC Volume 2.című friss válogatást reklámozza...
ahogy az új interaktív Dylan-klip is azért született meg, hogy a 47 lemezes The Complete Album Collection Vol. 1 díszdobozt népszerűsítse:
Déri Zsolt
további MusicPress-posztok a Facebookon:
http://facebook.com/MusicPressBlog