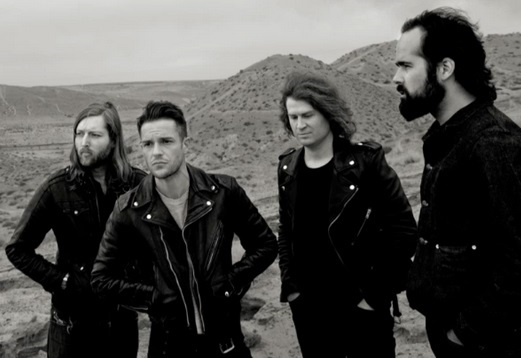 A Killers tavalyi visszatérő albuma, a Battle Born (és annak klipet kapó három kislemezdala, a Runaways, a Miss Atomic Bomb és a Here With Me) nem lett akkora siker, mint remélték, de most egy évvel később máris egy karrieráttekintő best of slágergyűjteménnyel mennek biztosra: a november 11-én megjelenő Direct Hits című válogatás a Las Vegas-i zenekar elmúlt kerek egy évtizedének kislemezdalait gyűjti sorba (a legutóbbi Here With Me hiánya és a helyére tett The Way It Was azért meglepő), az igazi plusz értéket pedig két vadonatúj felvétel jelenti rajta. Az M83-vezér Anthony Gonzales produceri segédletével felvett Shot At The Night már szeptemberben megérkezett egy videoklippel együtt, de most már hallhatjuk a másik új szerzeményt is, mely a Just Another Girl címet kapta.

a másik új szerzemény, a Shot At The Night a videójával, melyet a Killers legutóbbi két karácsonyi kislemezdalának klipjét is jegyző Roboshobo (Robert Schober) rendezett az ausztrál Bella Heathcote és a brit Max Minghella főszereplésével:

a Direct Hits album beharangozója kisfilmje:

a válogatás deluxe kiadására bónuszként egy remix is került, melyet Calvin Harris készített a When You Were Young című 2004-es Killers-slágerhez:

a Direct Hits válogatás számlistája:

1. "Mr. Brightside" 3:42
2. "Somebody Told Me"  3:17
3. "Smile Like You Mean It"  3:54
4. "All These Things That I've Done" 5:01
5. "When You Were Young" 3:40
6. "Read My Mind"  4:06
7. "For Reasons Unknown"  3:32
8. "Human"  4:09
9. "Spaceman" 4:43
10. "A Dustland Fairytale"  3:45
11. "Runaways"  4:04
12. "Miss Atomic Bomb"  4:53
13. "The Way It Was"  3:51
14. "Shot at the Night"g 4:02
15. "Just Another Girl" 4:22

a delucxe kiadás bónuszai 
16. "Mr. Brightside" (original demo)  4:22
17. "When You Were Young" (Calvin Harris Remix)  6:12
18. "Be Still  4:33
Déri Zsolt
FRISSÍTÉS: november 25-én megérkezett a Just Another Girl klipje is, melynek korábbi Killers-videókból ismerős jeleneteibe Dianna Agron színésznő ugrik be Brandon Flowers helyére!
további MusicPress-posztok a Facebookon:
http://facebook.com/MusicPressBlog