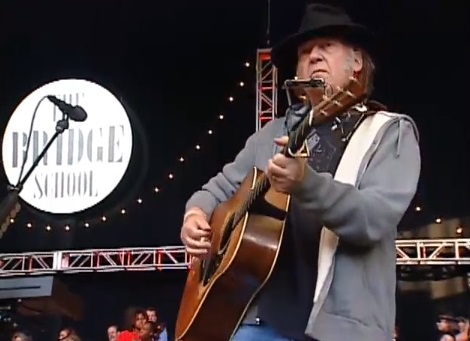 Neil Young idén már 27. alkalommal rendezi meg akusztikus koncertekre specializálódott sztárparádés jótékonysági fesztiválját, melynek bevételei a kaliforniai Hillsborough-ban működő Bridge Schoolt támogatják, ahol beszéd- és mozgáskorlátozott gyermekeket gondoznak és oktatnak. A 2013-as The Bridge School Benefit fesztivál október 27-én és 28-án zajlik Mountain View városában a Shoreline Amphitheatre-ben – és a szombati program magyar idő szerint vasárnap hajnali 2-től az interneten is nézhető élő YouTube-közvetítésben, olyan előadókkal, mint az Arcade Fire, a Queens Of The Stone Age, a My Morning Jacket, a Fun., a Heart, Jenny Lewis, Diana Krall, Elvis Costello, Jack Johnson és persze maga Neil Young, aki idén a Crosby, Stills, Nash & Young szupergrupp élén is színpadra lép. A különleges akusztikus koncertek itt a MusicPress blogon is egyenes adásban követhetők! (FRISSÍTÉS: az alábbi lejátszón a teljes 8 és fél órás közvetítés visszanézhető egy ideig – az első koncert a 41. percnél kezdődik!)

a tervezett kezdési időpontok – magyar idő szerint:

(2.10) Neil Young
(2.20) Jenny Lewis
(2:55) Heart
2:35 Fun.
3.10 Diana Krall
3.45 Elvis Costello
4.30 Jack Johnson
5.15 My Morning Jacket
6.05 Arcade Fire
6.50 Queens Of The Stone Age
7.40 Crosby, Stills, Nash & Young

a közvetítés beharangozó kisfilmje:

Tom Waits a vasárnap esti fellépésre készül (azt a napot sajnos nem közvetítik élőben)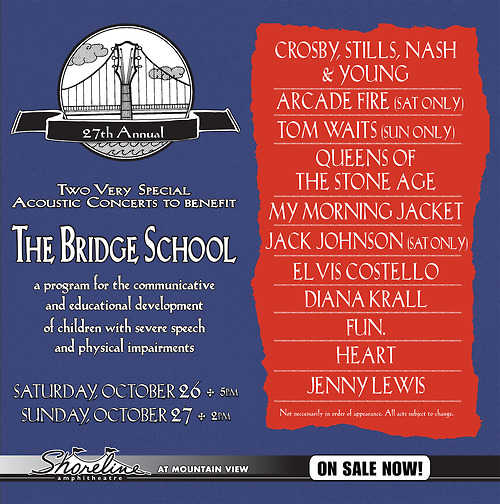 www.bridgeschoolbenefit.org
www.bridgeschool.org
Déri Zsolt
további MusicPress-posztok a Facebookon:
http://facebook.com/MusicPressBlog


FRISSÍTÉS 2: az Arcade Fire fellépése álljon itt külön is!
1. The Suburbs
2. Reflektor
3. Awful Sound (Oh Eurydice)
4. Normal Person
5. I Dreamed A Neil Young Song (feat. Neil Young – ősbemutató!)
6. Wake Up

FRISSÍTÉS 3: itt a QOTSA-fellépés is külön!
1. Long Slow Goodbye
2. Make It Wit Chu
3. I Sat By The Ocean
4. ...Like Clockwork
5. Kalopsia
6. Go With The Flow

FRISSÍTÉS 4: a fesztivál második napján, vasárnap Neil Young, Elvis Costello, Jenny Lewis és a My Morning Jacket tagjai az Oh! Sweet Nuthin' című 1970-es Velvet Underground-dal kilencperces feldolgozásával tisztelegtek az aznap elhunyt Lou Reed emléke előtt!

FRISSÍTÉS 5: íme, Tom Waits vasárnapi fellépése!
Raised Right Men
Singapore
Talking At The Same Time
Chicago
Lucky Day
Tom Traubert's Blues
Lucinda
Last Leaf
Cemetery Polka
Come On Up To The House