A barcelonai Primavera Sound fesztivál koncertjeit idén is élőben közvetítik a YouTube-on: a számos remek fellépőt (Tame Impala, Dinosaur Jr., The Postal Service, Grizzly Bear, Phoenix, Animal Collective, Peace, The Jesus And Mary Chain, James Blake, Swans, Adam Green & Binki Shapiro, Dead Can Dance, Wu-Tang Clan, Hot Chip stb.) kínáló program itt a MusicPress blogon is egyenes adásban nézhető három napon át, egészen vasárnap hajnalig.
a koncertközvetítések tervezett időpontja:
május 23. csütörtök

18:25 WILD NOTHING
19:20 DELOREAN (szerdai koncert, felvételről)
20:30 TAME IMPALA
21:45 DINOSAUR JR
22:55 THE POSTAL SERVICE
00:15 GRIZZLY BEAR
01:40 PHOENIX
03:10 ANIMAL COLLECTIVE
május 24. péntek
17:50 PONY BRAVO
18:40 NICK WATERHOUSE
19:30 PEACE
20:30 THE BOTS (szerdai koncert, felvételről)
21:35 MANEL (felvételről)
22:45 THE JESUS & MARY CHAIN
00:15 JAMES BLAKE
01:20 SWANS
május 25. szombat
17:00 GUADALOUPE PLATA
17:50 EXTRAPERLO
18:35 ADAM GREEN & BINKI SHAPIRO
20:00 POOLSIDE (felvételről)
21:00 DEAD CAN DANCE
22:20 WU-TANG CLAN
23:45 ORQUESTRE POLY RYTHMO DE COTONOU (felvételről)
01:05 LOS PLANETAS
02:30 SIMIAN MOBILE DISCO (felvételről)
03:50 HOT CHIP
Déri Zsolt
FRISSÍTÉS: az új felállásában most először fellépő Tame Impala koncertjének közvetítése (annak technikai hibái miatt kissé csonkítva) itt visszanézhető!
00:00 Solitude Is Bliss
03:25 Jam (part I)
05:10 Apocalypse Dreams
-----Streaming offline-----
13:07 Elephant
18:51 Feels Like We Only Go Backwards
21:48 Another Kosmic Funky Jam
23:42 Mind Mischief + Jam (part II)
29:08 Alter Ego
34:26 It's Not Meant To Be
-----Streaming Offline-----
39:02 Half Full Glass Of Wine

a 2013-as Primavera Sound fesztivál eredeti plakátja, melyen a fellépését azóta sajnos lemondó Fiona Apple neve is szerepelt még: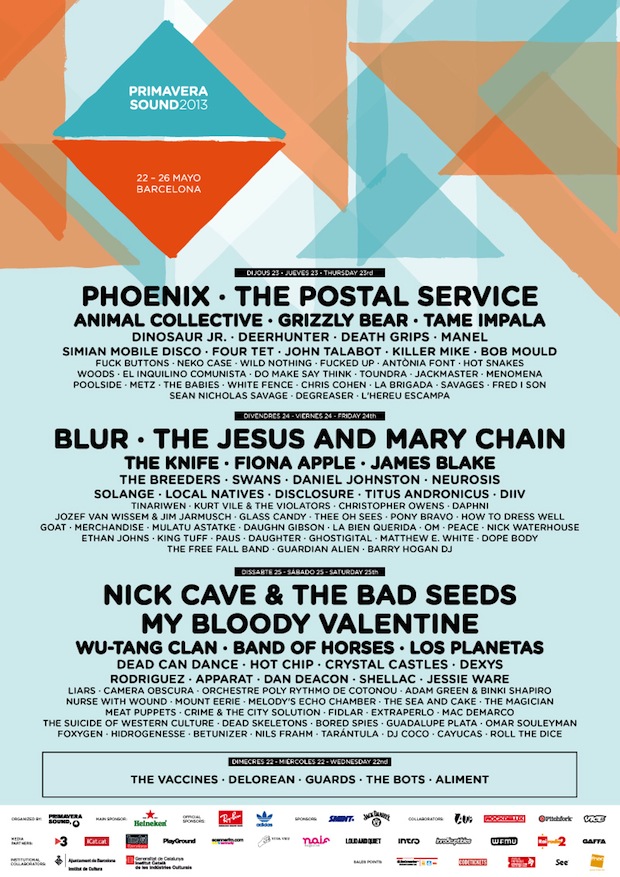 -
további MusicPress-posztok a Facebookon:
http://facebook.com/MusicPressBlog