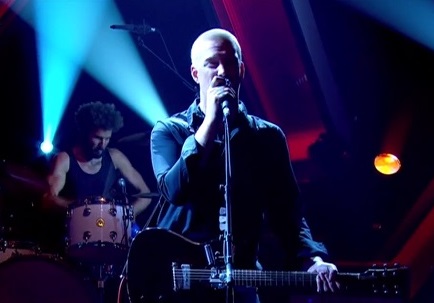 A Queens Of The Stone Age a június elején megjelenő ... Like Clockwork album beharangozásaként a My God Is The Sun kislemezdal, a bizarr animációkat kapó számrészletek (I Appear Missing, Kalopsia) és a további új szerzemény ősbemutatójának helyt adó brüsszeli klubkoncert (I Sat By The Ocean, If I Had A Tail, Keep Your Eyes Peeled stb.) után tegnap este Londonban a BBC Two csatornán Jools Holland tévéműsorában is fellépett. Josh Homme-ék ugyan nem játszottak olyan dalt, amit korábban nem, de ez a produkció annyira jó, hogy megérdemel egy külön posztot itt a MusicPress blogon.
I Sat By The Ocean
My God Is The Sun
http://www.qotsa.com
http://www.likeclockwork.tv
Déri Zsolt
FRISSÍTÉS: egy nappal később, május 15-én Josh Homme-éknak a holland De Wereld Draait Door tévéműsorban csak a My God Is The Sun másfél percesre szabott részletére volt idejük, de a netre ráadásként felkerült az If I Had A Tail című dal külön rögzített előadása is teljes hosszában!

további MusicPress-posztok a Facebookon:
http://facebook.com/MusicPressBlog