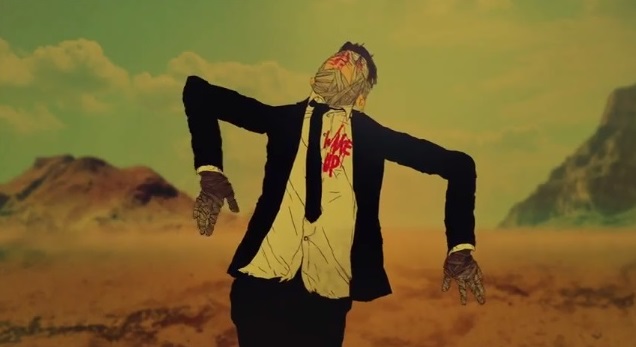 A Queens Of The Stone Age júniusban megjelenő ... Like Clockwork albumáról egy hónapja már hallhattuk a My God Is The Sun című dalt (koncertverzióban is az új dobossal, Jon Theodore-ral), de Josh Homme-ék most megmutatják az I Appear Missing című szerzeményt is, vagyis az albumon hatperces számból egy hárompercesre vágott változatot egy morbid animációs videóval.
a május 5-én éjjel az Adult Swim csatornán leadott félperces beharangozó:
a klipet rajzoló – és az új album borítóját is jegyző – Boneface honlapja:
http://www.boneface.co.uk 
http://www.qotsa.com
http://www.likeclockwork.tv
Déri Zsolt
FRISSÍTÉS: május 14-én a zenekar a Trent Reznorral készült Kalopsia című dal egy részletét is Boneface rajzaival tette közzé, de ez az újabb animáció csak 111 másodperc hosszú!
FRISSÍTÉS 2: május 15-én egy újabb animáció érkezett három percben, ami alatt a Keep You Eyes Peeled mintegy fele hallható!
FRISSÍTÉS 3: május 16-én az If I Had A Tail is kapott egy kisfilmet!
FRISSÍTÉS 4: május 17-én a sorozatban a My God Is The Sun videója is megjött, de ez végre egy teljes dalt tartalmaz, nem csak egy részét!

FRISSÍTÉS 5: május 20-án az öt részt egy negyedórás kisfilmmé egybefűzve is közzétették, mely a lemezhez hasonlóan a ...Like Clockwork címet kapta!
0:00 - I Appear Missing
3:00 - Kalopsia
4:42 - Keep Your Eyes Peeled
7:35 - If I Had A Tail
10:59 - My God Is The Sun 
további MusicPress-posztok a Facebookon:
http://facebook.com/MusicPressBlog