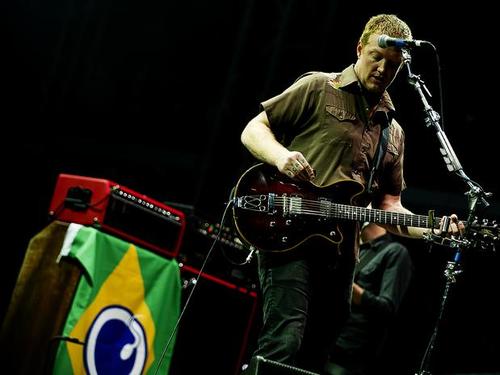 A Queens Of The Stone Age több mint másfél év után újrakezdte a koncertezést március 30-án este a Lollapalooza Brasil fesztiválon São Paulóban, és Josh Homme-ék az új dobossal – a MusicPress blogon már pénteken leleplezett Jon Theodore-ral – egy új dalt is bemutattak élőben a júniusban megjelenő ... Like Clockwork albumról. A My God Is The Sun című szerzemény ősbemutatója itt látható.
a visszatérő koncert dallistája:
The Lost Art Of Keeping A Secret
No One Knows
First It Giveth
Sick, Sick, Sick
Burn The Witch
Monsters In The Parasol
Hangin' Tree
Make It Wit Chu
My God Is The Sun
Little Sister
Better Living Through Chemistry
Do It Again
Go With The Flow
A Song For The Dead
Déri Zsolt

FRISSÍTÉS: itt a koncertet nyitó The Lost Art Of Keeping A Secret / No One Knows / First It Giveth triász is!

... és itt az egész koncert is, a teljes 64 perces felvétel is!