Az extravagáns koreai-amerikai énekesnő Karen O, a multiinstrumentalista Nick Zinner és Brian Chase dobos New York-i triója, a Yeah Yeah Yeahs a befutását meghozó milliós eladású Fever To Tell debütalbum után pontosan tíz évvel, 2013 áprilisában jelenteti meg Mosquito című negyedik lemezét, melyről a Sacrilege című beharangozó dal épp a hét elején kapott egy szenzációs klipet a francia MEGAFORCE kollektívától, de Karenék most a hét végére máris egy újabb aktualitással jelentkeztek: a New York Times ma közzétett nagy YYY-cikke mellé az újság honlapján bemutatták Under The Earth című szerzeményüket is, mely monumentalitást ezúttal nem organikus gospel kórushangzással, hanem a szintetizátoros effektezéssel teremti meg. A dal, amit eddig koncertfelvételről ismerhettünk, most már stúdióverziójában is meghallgatható itt a MusicPress blogon.
a két hét múlva megjelenő album borítója és dallistája: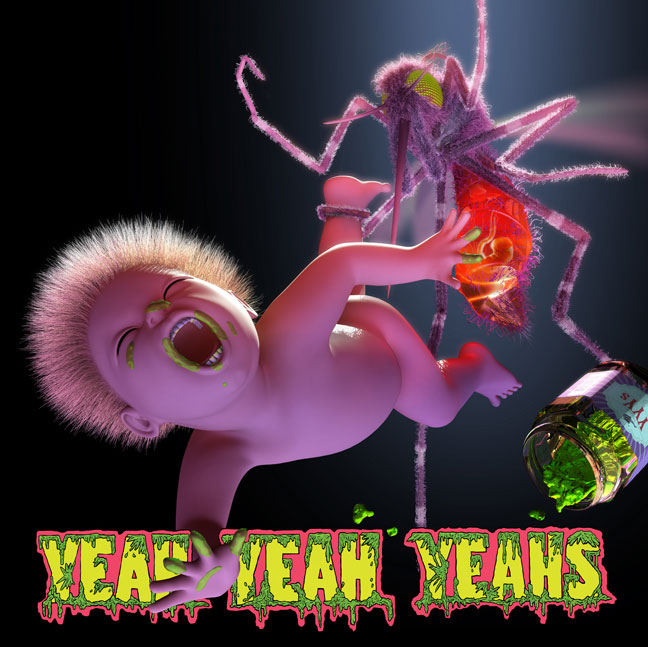 Yeah Yeah Yeahs: Mosquito (2013)

1. "Sacrilege"
2. "Subway"
3. "Mosquito"
4. "Under The Earth"
5. "Slave"
6. "These Paths"
7. "Area 52"
8. "Buried Alive" [ft. Dr. Octagon]
9. "Always"
10. "Despair"
11. "Wedding Song"

a mexikóvárosi Vive Latino fesztiválon március 15-én adott Yeah Yeah Yeahs-koncert, melynek különlegessége, hogy a Mosquito albumcím és -borító koncepciójához illeszkedve Karen a Human Fly című The Cramps-klasszikus feldolgozását is előadta zenekarával:
00:00 Cheated Hearts
06:20 Sacrilege
10:40 Man
12:35 Mosquito
16:25 Human Fly (The Cramps-feldolgozás)
19:45 Under The Earth
24:28 Down Boy
28:35 Zero
34:44 Skeletons
40:38 Gold Lion
44:36 Pin
47:43 Turn Into
52:15 Heads Will Roll
Déri Zsolt