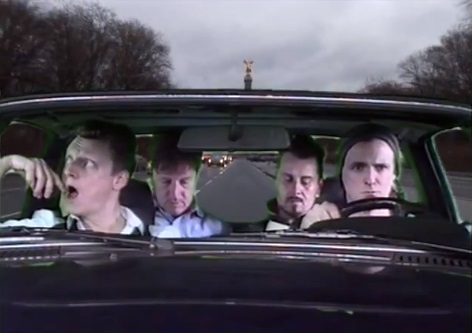 Az 1997 és 2008 között hat albumot megjelentető skót Travis együttes elkészült fél évtizede várt 7. sorlemezének felvételeivel (a bónuszdalokat is beleértve), pár hete a Good Bye, Lenin! rendezőjével, Wolfgang Beckerrel már egy videót is forgattak (az Another Guy című első beharangozó számhoz), nyárra pedig már be is jelentettek pár nyári koncertet (mi is hiányzik még? ja igen: végre egy magyarországi fellépés!). Maga a kicsit New Order-ízű Another Guy egyébként még nem az első hivatalos kislemezdal az albumról, csak egy pre single teaser song, és nem is igazi videoklip tartozik hozzá kíséretként, csak"egy kis dramatizáció", egy kis minimalista VHS-bohóckodás, melyben feltűnik maga a rendező, aki a dalszerző-gitáros-énekes Fran Healy szerint "a legkúlabb faszi Berlinben"!
a dal itt le is tölthető a zenekartól egy e-mail címért cserébe:
Dear All,
Album 7 is finished!!! so here is a pre single teaser song to start things moving. It's called "Another Guy"
Rather than put the track out there alone we and our dear friend, the legendary film director Wolfgang Becker made a little dramatization which does all the things a Travis video should do. We decided, in light of everything going hi definition, we'd shoot on a VHS camera. Also we asked Wolfgang to star in it because HE IS THE COOLEST GUY IN BERLIN.
Oh I think there is a widget which will allow you to download the song... OK... Travis are back!
Enjoy the song
Fran x

ráadásként itt a Good Bye Lenin! című 2003-as német sikerfilm magyar szinkronnal: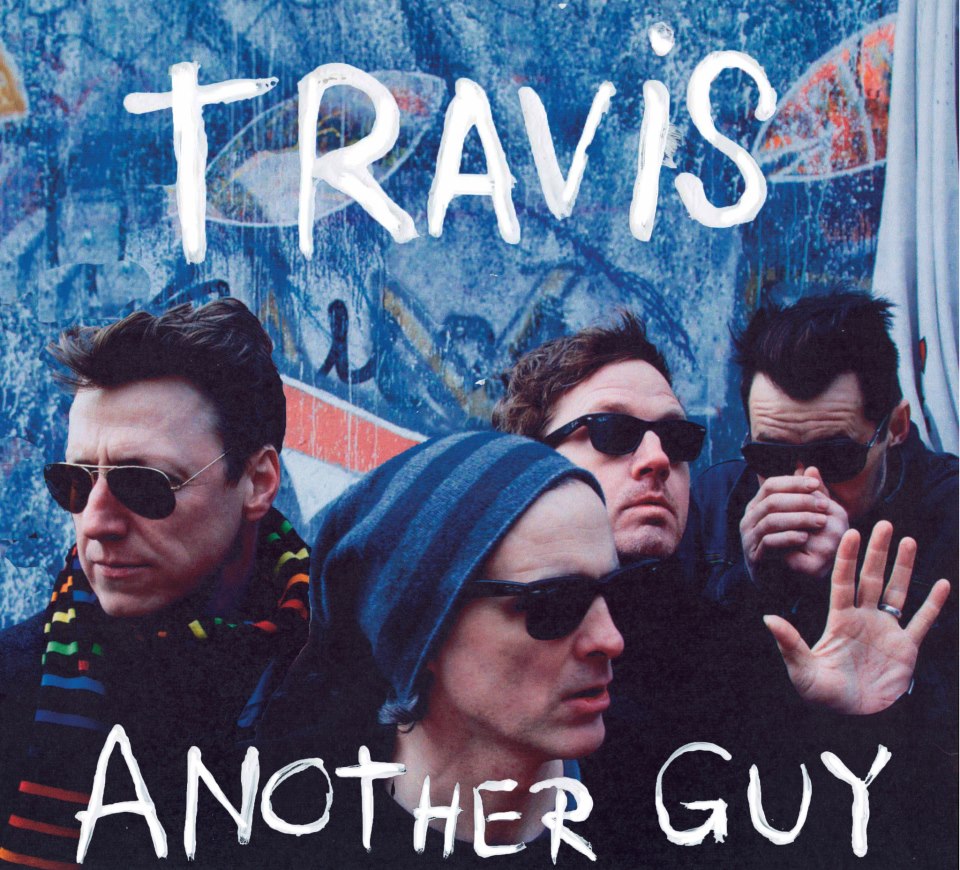 Déri Zsolt
FRISSÍTÉS: április 25-én Fran Healy egy kézzel írt levélben közölte, hogy az új album Where You Stand címmel augusztus 19-én jelenik meg, és az azonos című dal lesz róla az első hivatalos kislemez április 30-án!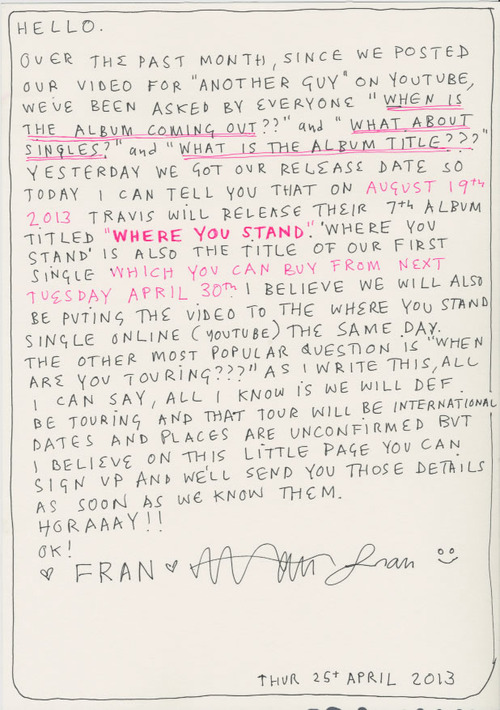 http://travisonline.com/index.html


FRISSÍTÉS 2: április 30-án meg is érkezett a beígért első hivatalos kislemezdal, a Where You Stand (melyet Fran Healyék a néhai XTC zenekar frontemberének, Andy Partridge-nak a lányával, Holly Partridge gitáros-énekesnővel közösen írtak) és hozzá egy videoklip is!