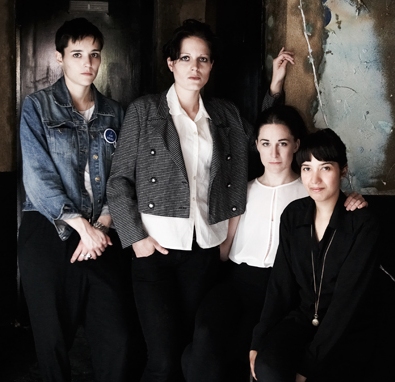 Az első koncertjét 2012 januárjában adó, augusztusban már a Blur előzenekaraként játszó (és a lengyelországi OFF fesztiválon számos magyar nézőt is lenyűgöző) londoni Savages csajkvartett az év végén a BBC Sound Of 2013 listájára való felkerülésekor szerepelt már itt a MusicPress blogon egy tévés fellépéssel, majd egy teljes koncertjét is láthattuk élő egyenes adásban a februári Other Voices fesztiválról, de akkor még csupán a 2012 nyarán kiadott Flying To Berlin/Husbands kislemez volt a lányok egyetlen stúdióanyaga. Az 1984-ben Camille Berthomier néven Franciaországban született, majd 2006-tól a már Londonban működő John & Jehn szerelmespár-duó lánytagjaként feltűnt Jehnny Beth (a fenti kép bal szélén) a múlt éjszaka közzétett szigorú poszt-punk együttese élén egy újabb stúdiófelvételt She Will címmel, és május 6-ra bejelentette a Silence Yourself című első Savages-album megjelenését saját cégénél, a Pop Noire-nál. A nagylemezhez, melynek társproducere a John & Jehn duó másik tagja, Johnny Hostile (született: Nicolas Congé) lesz, a borítót és a dallistát is közreadták – itt megtekinthető az új szám alatt.

az album dallistája és borítója:
Savages: Silence Yourself (2013)
01 "Shut Up"
02 "I Am Here"
03 "City's Full"
04 "Strife"
05 "Waiting For A Sign"
06 "Dead Nature"
07 "She Will"
08 "No Face"
09 "Hit Me"
10 "Husbands"
11 "Marshal Dear"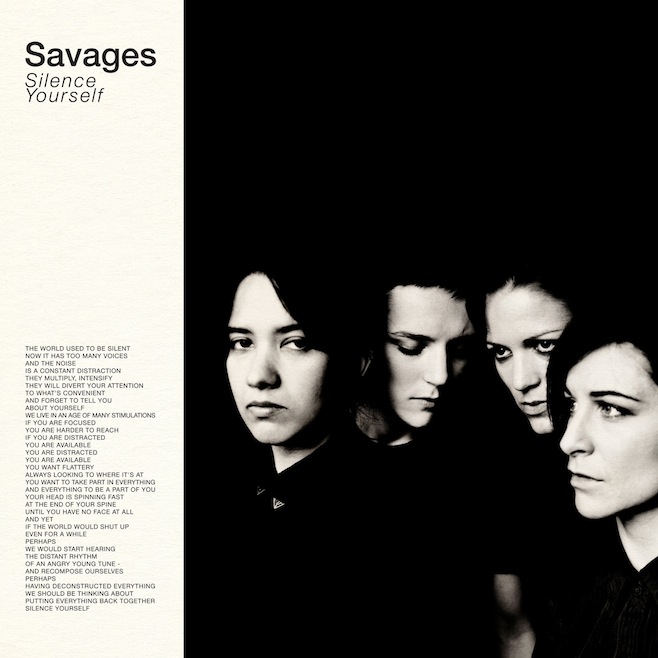 -
a Savages első kislemeze a Flying To Berlin és Husbands című dalokkal:
>
a Savages első koncertjének első száma, a City's Full 2012.január 24-én 
az I Am Here című dal élő előadása egy londoni koncertről 2012 októberéből:

egy decemberben New Yorkban forgatott friss Savages-kisfilm, mely alatt az énekesnő és a gitáros Gemma Thompson improvizatív mellékprojektjének, a Johnny Hostile-lal közös HTB-nek a Brid című száma szól:
ez pedig a február 24-én megjelent első HTB-kislemez másik száma, a Scarlet Sound:

ráadásként itt a 20L07 című John & Jehn-klipdal és egy kisfilm szintén 2008-ból:
Déri Zsolt