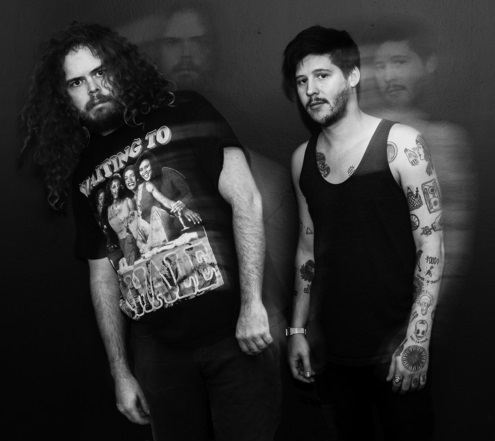 A 2010-es évek kaliforniai lo-fi/surf-rock sztárpárja, Bethany Cosentino és Nathan Williams továbbra is zajban fürdik: a gitáros-énekesnő Best Coast nevű zenekarának The Only Place című legutóbbi albuma már tavaly óta meghallgatható itt a MusicPress blogon, de most már mellétehetjük pasija együttesének, a punkosabb noise-rock beütésű Wavvesnek az új anyagát is. A 2010-es nagy befutásukat hozó nagylemezek (Best Coast: Crazy For You, Wavves: King Of The Beach) óta mindketten elvesztettek dobosukat, így most már Nathan is egy duót vezet hivatalosan: a széttetovált dalszerző-gitáros-énekes és nagydarab basszistája, Stephen Pope a 2011-es Life Sux EP után 2013. március 25-én jelenteti meg Afraid Of Heights címmel a markáns és lendületes új (sorrendben immár a negyedik) Wavves-albumot, mely a pár órával ezelőtti NPR-premiernek hála már itt is végighallgatható.
Wavves: Afraid Of Heights (2013)
1. "Sail To The Sun" [0:00]
2. "Demon To Lean On" [3:15]
3. "Mystic" [7:27]
4. "Lunge Forward" [9:50]
5. "Dog" [12:38]
6. "Afraid Of Heights" (feat. Jenny Lewis) [15:49]
7. "Paranoid" [20:57]
8. "Cop" [23:22]
9. "Beat Me Up" [25:20]
10. "Everything Is My Fault" [27:45]
11. "That's On Me" [30:19]
12. "Gimme A Knife" [34:00]
13. "I Can't Dream" [36:56]


az album két klipje, a Sail To The Sun és a friss Demon To Lean On :

ha már szóba került, itt a teljes ötszámos Life Sux EP is, melyen Bethany is feltűnt pasija mellett egy duett erejéig, sőt a végre a kanadai Fucked Up tagjai is beugrottak ordítozni:

ráadásként itt a Wavves egy friss közreműködése az OutKast-rapper Big Boi 2012 végén megjelent szólóalbumának Shoes For Running című dalában, melyben rajtuk kívül még B.o.B is hallható:
Déri Zsolt
FRISSÍTÉS: az Afraid Of Heights album amerikai megjelenésének napján, március 26-án megérkezett a címadó dal klipje is!

FRISSÍTÉS 2: a zenekar másnap, március 27-én éjjel David Letterman műsorában lépett fel a Demon To Lean On című dallal!