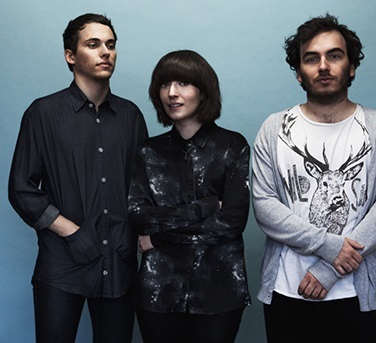 Február elején már láthattuk itt a MusicPress blogon a londoni Daughter együttes koncertjének élő közvetítését az Other Voices fesztiválról, sőt a közelgő első albumról akkor már három dal stúdióverziója is meghallgatható volt (Youth, Smother, Still – ez utóbbi videoklippel együtt), mostanra azonban befutott a teljes tízszámos anyag is: az angol gitáros-énekesnő Elena Tonra, a svájci gitáros-producer Igor Haefeli és a francia dobos Rémi Aguilella folkos beütésű indie rock triója március 18-án adja ki If You Leave című nagylemezét, mely itt már megjelenés előtt letesztelhető (alatta pedig a 4AD kiadóhoz való leszerződés előtt készült két 2011-es EP négy-négy dala is meghallgatható, tehát itt együtt van az összes hivatalos Daughter-kiadvány).
10. Shallows
az első Daughter-kiadvány, a 2011 áprilisában megjelent
His Young Heart EP
:
1.Landfill
2.The Woods
3.Candles
4.Switzerland
a második kiadvány, a 2011 őszén megjelent The Wild Youth EP négyszámos anyaga:
1. 00:00 Home
2. 04:15 Medicine
3. 08:42 Youth
4. 12:51 Love
összeállítás a zenekar YouTube-csatornájára feltöltött felvételekből, melyek között a 2012-es Smother kislemez Run című B-oldalas száma is szerepel:

ráadásként álljon itt újra a Daughter első hivatalos klipje, a Still című dalhoz:
Déri Zsolt
FRISSÍTÉS: március 20-án a BBC rádióban Zane Lowe műsorában a Daughter összegyúrt a Perth című Bon Iver-dalból és a Hot Chip-féle Ready For The Floorból egy egyesített feldolgozást!
Április 27-én a BBC Radio One adásában, a Huw Stephens vezette Live Lounge műsorában a Get Lucky című Daft Punk-slágerből is készített a trió egy lenyűgöző átiratot!