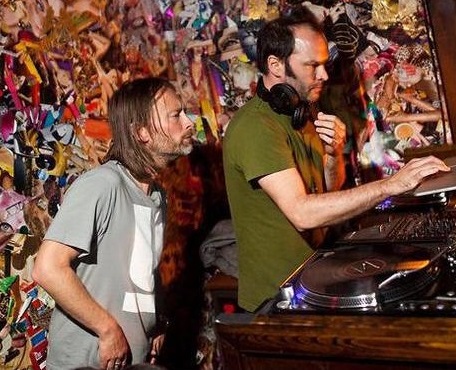 A januári Dazed Digital mix után ma hajnalban újabb Radiohead- és Thom Yorke-ritkaságokat kaptunk: a frontember és a billentyűs-producer Nigel Godrich az első albumával e héten előálló Atoms For Peace szupergrupp képviseletében a BBC Radio 1 nagynevű Essential Mix sorozata számára egy kétórás összeállítást készítettek, melybe kedvenc kísérletező előadóik (Aphex Twin, DOOM, Steve Reich, Diplo, Oenohtrix Point Never stb.) számai mellet saját anyagokat is beleszőttek, köztük egy eddig kiadatlanokat is, mint a Harmonics Loop című Radiohead-felvétel, vagy a Has Been és The Twist (Unfinished B Section) című Thom Yorke-kompozíciók.
a teljes mix itt le is tölthető:
http://soundcloud.com/evil_concussion/2013-03-09-atoms-for-peace-aka/download

vagy akár itt is meghallgatható és itt is letölthető!
01. Chris Clark - The Pining Pt. 1 [ Warp]
02. Doom & Thom Yorke/Jonny Greenwood - Retarded Fren [Lex Records]
03. Luke Abbott - Brazil [Border Community]
04. Thom Yorke/Jonny Greenwood - Feeling Pulled Apart By Horses
[_Xurbia_Xendless Limited]
05. Redshape - Man Out Of Time (Major Space Dub) [Present Recordings]
06. Kuodede - Golf [Taxila]
07. Colleen - Bicycle Bells [Leaf]
08. Shed - Day After [50 Weapons]
09. Thom Yorke - The Twist (Unfinished Section B)
10. Thom Yorke - Has Been
11. Marcel Dettmann - Ellipse [50 Weapons]
12. Luke Abbott - Modern Driveway [Border Community]
13. Radiohead - Give Up The Ghost (Thriller House Ghost Mix) [Ticker Tape]
14. Thom Yorke - Harrowdown Hill (C90 Mix)
15. Radiohead - The Gloaming
16. Boys Noize - Kill The Kid [Boysnoize Records]
17. Other Lives - Tamer Animals (Atoms For Peace Remix) [50 Weapons]
18. Radiohead - Harmonics Loop
19. Bad Autopsy - Ginmixer [Ramp Recordings]
20. Phon.o - Fukushima [Monkeytown Records]
21. Adolfo Coelho - Socana N'gam [Lusafrica]
22. Trim & Riko - Trousers [Cre8ive]
23. Apostrophi - Average Joe
24. Mr. Oizo - Stunt [Ed Banger Records]
25. Throwing Snow & Louis Vines - Too Polite [Local Action]
26. Steve Reich - It's Gonna Rain Pt. 1 (1965) [Nonesuch]
27. DJ Tre - Ping Pong Track [Skratch-A-Trak]
28. Aphex Twin - Cilonen [Rephlex]
29. DJ Slugo - Juke Me From The Back Low
30. Thom Yorke - The Drunkk Machine [XL Recordings]
31. Firefox & Glamour - Check Da Skills [Gold Philly Blunt Records]
32. Thom Yorke - The Hollow Earth [_xurbia_xendless]
33. Macc & DgoHn - Forget Stuff [Rephlex]
34. Wishmountain - Walkman [Antiphon]
35. Oneohtrix Point Never - I Only Have Eyes For You
36. Alex Cortex - Huyendo [Klang Elektronik]
37. Radiohead - Bloom (Jamie XX Club Remix) [_xurbia_xendless]
38. Abu Sultan - Your Love Made My Head Hurt [Sham Palace]
39. Diplo & DJ Blaqstarr - Get Off (DJ Rob 3 Remix) [Mad Decent]

a Radiohead-féle Harmonic Loops itt van külön is:
Déri Zsolt
FRISSÍTÉS: április 27-én és Nigel Godrich és Thom Yorke a francia Radio Nova műsorában DJ-ztek, és ott is bemutattak egy eddig kiadatlan Atoms For Peace-számot Magic Beanz címmel!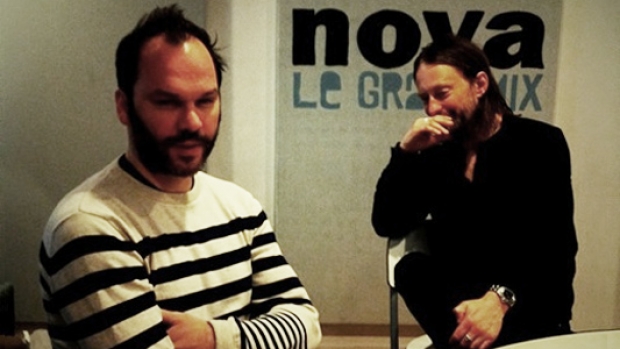 http://tkol2.tumblr.com/post/49042957910/atoms-for-peace-magic-beanz