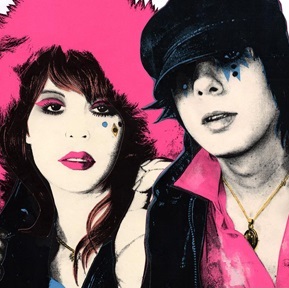 A MusicPress 2012 év legjobb lemezei listáján a Kill For Love albummal győzedelmeskedő Chromatics billentyűs-producertagja, Johnny Jewel tavaly a másik (régebbi) együttesével, az Ida No gitáros-énekesnő társaságában alapított Glass Candyvel is visszatért (a legutóbbi felvétel, amit közzétett, épp a két zenekar közös Joy Division/New Order-feldolgozása volt), de közben Italians Do It Better nevű kiadójának kultikus 2007-es After Dark válogatáslemezéhez is készíti a folytatást. Az After Dark 2 anyagából az elmúlt hónapokban már megismerhettünk két számot a Chromaticstól (Looking For Love, Cherry) és egyet annak másik testvérzenekarától, a Megan Louise énekesnővel alakított Desire-től (Tears From Heaven), de a mai napon a válogatásról egy újabb Glass Candy-dal is nyilvánosságra került (a már 2011-ben közzétett Warm In The Winter mellé). Az itt hallható (és mp3 formátumban le is tölthető) The Possessed című számot egy párizsi divatbemutató kísérőzenéjeként használták, amint erre a hétperces bővített verzió zárójeles alcímében a kifutó szó is utal.
http://soundcloud.com/johnnyjewel/glass-candy-the-possessed/download

Through The Glass
Our Cares Are Laughable
We Are Flies
We're Six Billion Terrible
Women In Vogue
To The House Nightly
Wanton Galore
The Happy House Nightly
We Are Flies
We're Blue & We're Beautiful
Multiplied
We're Six Billion Terrible
Mortals Forlorn
Through The Glass Darkly
Wanton Galore
The Looking Glass Darkly
Wild Child
Set Free In The Night
Wild Child
Set Free In The Night
Through The Glass Darkly
The Looking Glass Darkly
Too Bad
The Mad
Darkly Obsessed
To The House Nightly
So Sad
We Have
Le'Go The Possessed
The Happy House Nightly
It's All Things To The Menagerie
We Die & Wait For The Burn
It's All Things To The Menagerie
We Came To Learn
Await The Return...
Of The Child Made Wild !

ráadásként itt egy 2008-as Glass Candy-ritkság, melyet Johnny Jewel szintén ezen a héten töltött fel SoundCloud-oldalárara: a Geto Boys 1991-es Mind Playing Tricks On Me-jének és Isaac Hayes-féle 1974-es Hung Up On My Babynek a hangmintái fölött Ida No az Iko Iko szövegét énekli!
http://soundcloud.com/johnnyjewel/glass-candy-geto-boys/download

http://primitivedesire.blogspot.com
http://vivaitalians.blogspot.com
Déri Zsolt
FRISSÍTÉS: március 6-án az ismét Alberto Rossini rendezésében készült The Possessed videó is megérkezett!