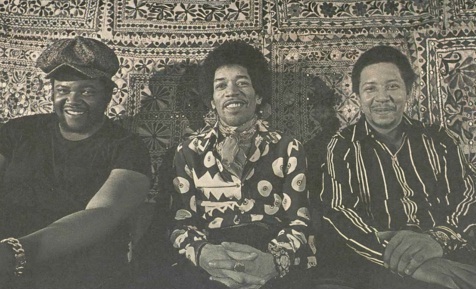 Januárban szerepelt már itt a MusicPress blogon Jimi Hendrix (1942-1970) új ritkasággyűjteményének, a kiadatlan felvételeket, pontosabban innen-onnan már ismert 1968 és 1970 közti dalok kiadatlan verzióit tartalmazó People, Hell And Angels albumnak az egyik száma, a Stephen Stills (Buffalo Springfield / Crosby, Stills, Nash & Young) társaságában 1968-ban készült Somewhere, de a válogatás szerkesztői most a héten gyors egymásutánban két újabb számot is közzétettek a március 4-én megjelenő válogatásról. A Hear My Train A-Comin' és Earth Blues című felvételeken, melyeket 1969. május 21-én és december 19-én rögzítettek, Billy Cox basszista és Buddy Miles dobos kíséri a legendás gitáros-énekest (a második számban az az évi Woodstock-fellépésről ismert Juma Sultan is kongázik). A két eddig kiadatlan dalverzió közül elsőként jöjjön a Hear My Train A-Comin', melyet már a Jimi Hendrix Experience is felvett 1969 áprilisában, de az itt hallható májusi verzió már az új kísérőkkel, a Band Of Gypsys felállás legelső stúdiózásakor készült!
a Hear My Train A-Comin' 1969-es felvételeiről Eddie Kramer hangmérnök beszél:
a dal legelső ismert verziója 1967-ből:

a másik most közzétett 1969-es felvétel, az Earth Blues...
... és az élő előadása az 1970-es újévi Band Of Gypsys-koncertről:

az új ritkasággyűjtemény borítója és dallistája: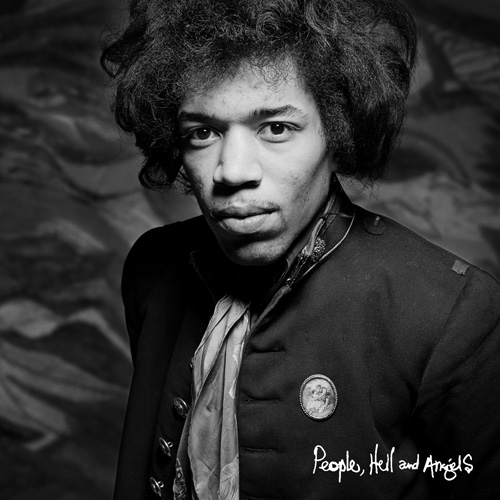 Jimi Hendrix:
People, Hell And Angels

1. "Earth Blues"
2. "Somewhere"
3. "Hear My Train a Comin'"
4. "Bleeding Heart"
5. "Let Me Move You"
6. "Izabella"
7. "Easy Blues"
8. "Crash Landing"
9. "Inside Out"
10. "Hey Gypsy Boy"
11. "Mojo Man"
12. "Villanova Junction Blues"
Déri Zsolt
FRISSÍTÉS: február 26-án a Spinner.com oldalán közzétettek az albumról egy újabb számot, az Izabella című felvételt, melyet Hendrix a woodstocki fellépésre összeállított Gypsy Sun And Rainbows nevű alkalmi kísérőzenekarának (Billy Cox - basszusgitár, Larry Lee - ritmusgitár, Mitch Mitchell - dobok, Jerry Velez és Juma Sultan - ütőhangszerek) egyetlen stúdiózása során rögzített, a fesztivál után tíz nappal, 1969. augusztus 28-án New Yorkban!