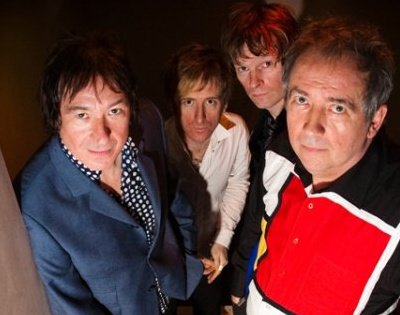 A Zombie11 Produkció szervezői, akik a február 23-án zajló III. Punk-Rock-Maratonra a GBH mellé a Discharge első magyarországi fellépését is elintézték a Dürer Kertbe, őszre egy még nagyobb és még régebbi punklegenda koncertjét is meghirdették ugyanoda: ha minden jól megy, október 13-án végre a magyar közönség is élőben láthatja a Buzzcocks együttest, mely a Sex Pistols manchesteri haverzenekaraként az angol punk első kislemeznél bővebb kiadványával, az 1977 januárjában megjelent négyszámos Spiral Scratch EP-vel debütált, később pedig olyan frenetikusan dallamos punk-pop slágerekkel folytatta, mint az Orgasm Addict, a What Do I Get? vagy a számtalanszor feldolgozott Ever Fallen In Love (With Someone You Shouldn't've), de három albumot is kiadott a hetvenes évek folyamán (Another Music In A Different Kitchen, Love Bites, A Different Kind Of Tension). A nyolcvanas évek legelején feloszlott és legvégén újjáalakult kvartett a két dalszerző-gitáros-énekessel, Pete Shelley-vel és Steve Diggle-lel az élen az elmúlt két évtizedben további öt albumot jelentetett meg, és folyamatosan nagy sikerrel koncertezett, sőt az egyik legnépszerűbb brit popkulturális tévéműsor, a BBC-n 1996 óta futó sztárparádés Never Mind The Buzzcocks vetélkedősorozat is intézményesítette (hír)nevét.
FRISSÍTÉS: augusztus végén a szervezők a Facebookon jelentették be, hogy a Budapestre tervezett Buzzcocks-koncert elmarad!
"Finanszírozási problémák miatt sajnos törölni vagyunk kénytelenek az októberre meghirdetett Buzzcocks, és a jövő februárra meghirdetett U.K. Subs koncerteket. A februári Discharge koncert indokolatlan elmaradása, és a kiadások, a zenekar és a management részéről való meg nem térítése nagy csapást jelentett anyagi helyzetünkre. Sajnos azóta sem sikerült talpra állni anyagilag és kellő pénzügyi fedezet nélkül nem merjük bevállalni sem a Buzzcocks, sem a U.K. Subs bulit. További rendezvényeinket szerencsére nem érinti a fennálló sajnálatos helyzet. Elnézést kérünk minden érintettől! Nagyon sajnáljuk, hogy így alakult..."
néhány dal 1977-78-ból:
egy teljes Buzzcocks-koncert 2004-ből:

a budapesti fellépés Facebook-eseményoldala:
http://www.facebook.com/events/211299638994808

http://www.buzzcocks.com
Déri Zsolt