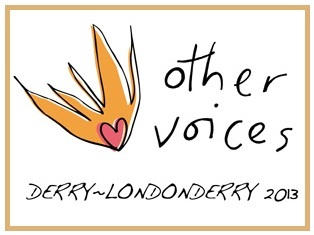 Az egy évtizedes múltra visszatekintő ír Other Voices fesztivál ezen a hétvégén Észak-Írországban, Derry (Londonderry) városában zajlik, és ezúttal is tartozik hozzá élő közvetítés. Február 8-án, a pénteki nyitónapon a dublini dalnok Damien Dempsey, a Derryből való 16 éves dalszerző-énekesnő SOAK (Bridie Monds-Watson), az elmúlt egy év egyik legbriliánsabb új zenekarának számító londoni Savages csajkvartett és az észak-ír Divine Comedy-vezér Neil Hannon lép színpadra, szombaton az 1991-es The Commitments filmből is ismert Bronagh Gallagher ír színész-énekesnő, a nemrég Budapesten is járt amerikai Jesca Hoop és az Electra Heart albummal turnézó walesi Marina And The Diamonds, míg vasárnap a skót James Yorkston, az angol Beth Orton és a londoni Daughter együttes a soros (FRISSÍTÉS: a záró fellépőnek meghirdetett észak-ír Two Door Cinema Club betegség miatt kiesett a műsorból, a Little Bear nevű helyi zenekar ugrik be helyette). Az este 9-től kezdődő koncerteket a brit Guardian honlapja és az ír RTÉ is közvetíti, de a háromnapos program itt a MusicPress blogon is egyenes adásban nézhető.

a francia Jehnny Beth (született: Camille Berthomier, 1984) vezette londoni Savages kvartett első tévéfellépése Jools Holland műsorában 2012 októberében:
a Savages eddigi egyetlen stúdióanyaga, a Flying To Berlin/Husbands kislemez:
Déri Zsolt
FRISSÍTÉS: az első napról kiemelt Savages együttes után a második nap fellépői közül koncentráljunk Jesca Hoop amerikai gitáros-énekesnőre két friss megjelenésével, az Ode To Banksy klippel (mely a 2012-es The House That Jack Built album legújabb kislemezdalához készült) és a szintén január végén közzétett The Complet Kismet Acoustic gyűjteménnyel, mely Kismet című 2007-es bemutatkozó albumának szerzeményeit tartalmazza akusztikus élő előadásban, a végén két bónuszdallal!

FRISSÍTÉS: az első nap programjából bemutatott Savages és a második napról kiemelt Jesca Hoop után a harmadik (és egyben záró)napról koncentráljunk Elena Tonra gitáros-énekesnő Daughter nevű együttesére, mely  2013. március 18-án megjelenő If You Leave című első nagylemezéről épp az elmúlt héten tette közzé Still című első klipjét (ami után az album két korábbi kislemezdala, a 2011-es Youth és a 2012-es Smother is meghallgatható)!