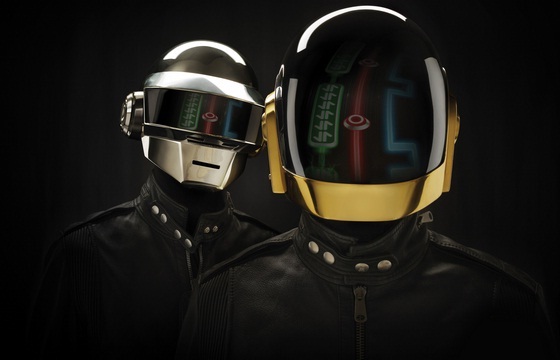 A francia Le Parisien napilap legfrissebb értesülései szerint a párizsi Daft Punk duó – a Depeche Mode-hoz hasonlóan – átszerződik a Sony alá tartozó amerikai Columbia kiadóhoz, és már a tavasz folyamán előáll új albumával (a szerződés tényét az amerikai The Hollwood Reporter magazin honlapja is megerősítette). Thomas Bangalter és Guy-Manuel de Homem-Christo együttese a Virginnél három sorlemezt adott ki, mindegyiket márciusban (Homework – 1997, Discovery – 2001, Human After All – 2005), azóta új szerzeményeket csak a 2010-es Tron: Örökség filmzenelemezen jelentettek meg (azt a Walt Disney Records égisze alatt). A nagy titokban készülő új album munkálataiban közreműködött az amerikai gitáros-producer Nile Rodgers (aki szintén 2013-as Daft Punk-visszatérésről beszélt évnyitó üzenetében), továbbá olyan hetvenes évekbeli hősök is, mint Giorgio Moroder és Paul Williams, sőt még az Animal Collective-tag Panda Bear és a kanadai Chilly Gonzales is készített felvételeket a robotmaszkos duó számára, de hogy ezek közül a kollaborációk közül pontosan mi kerül a lemezre, még nem tudni. (FRISSÍTÉS: egy nappal később a brit The Guardian és The Sun már annyival pontosítani tudták a hírt, hogy a "tavasszal" azt jelenti, májusban jön az új album!)

Nile Rodgers a Daft Punk-tagokkal közös munkáról mesél, és azt mondja, ugyanolyan élvezet volt velük stúdiózni, mint David Bowie-val, Madonnával és a Duran Durannal:

a legutóbbi Daft Punk-klip a Tron: Legacy filmzenelemez Derezzed című számához Warren Fu rendezésében:
http://zik-zag.blog.leparisien.fr/archive/2013/01/26/daft-punk-arrive-chez-sony.html
Déri Zsolt
FRISSÍTÉS: egy hónappal a hír kiszivárgása után, február 26-án már maga a DAFT PUNK is megerősítette honlapján egy képpel, hogy új lemezszerződést kötött a Columbia kiadóval, március 2-án éjszaka pedig a Saturday Night Live reklámblokkjában egy új zenét tartalmazó 15 másodperces szpot is lement a duótól!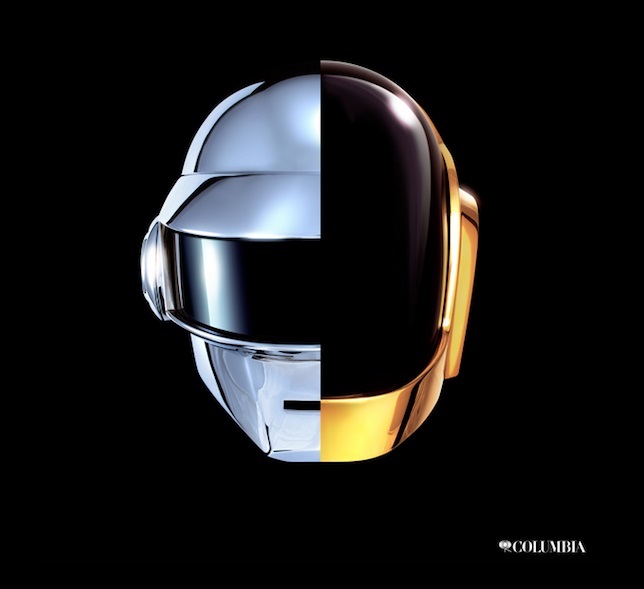 A 15 másodperces reklám zenéje után a duó hivatalos SoundCloud-oldalára március 5-én már egy másfél perces verzió is felkerült (egy fotó kíséretében, ahol balról jobbra Guy-Manuel de Homem-Christo, Thomas Bangalter, az Air-tag Nicolas Godin és a Phoenix-gitáros Laurent Brancowitz látható), de sokkal okosabbak nem lettünk tőle:
Audio from the commercial clip for our upcoming album
The photo was taken at Columbia Records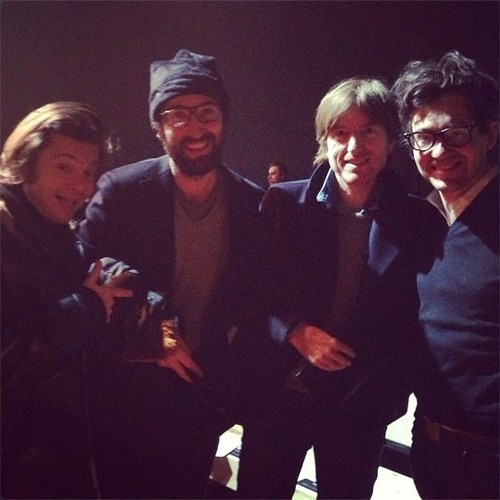 Március 17-ről 18-ra virradóra kiderült, hogy a Sony kiadó 13 Daft Punk-számot jegyzett be összesen 74:40 körüli játékidővel!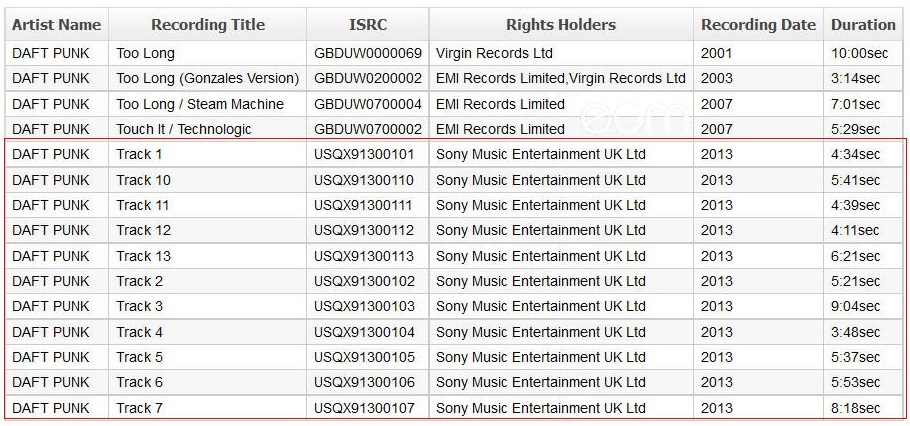 Március 23-án kiderült, hogy a fenti 13 számot tartalmazó album Random Access Memories címmel május 20-án jelenik meg a Columbia kiadónál, és a borítója alatt meghallgatható újabb 15 másodpercnyi új zene, mely ismét  a Saturaday Night Live reklámblokkjában érkezett!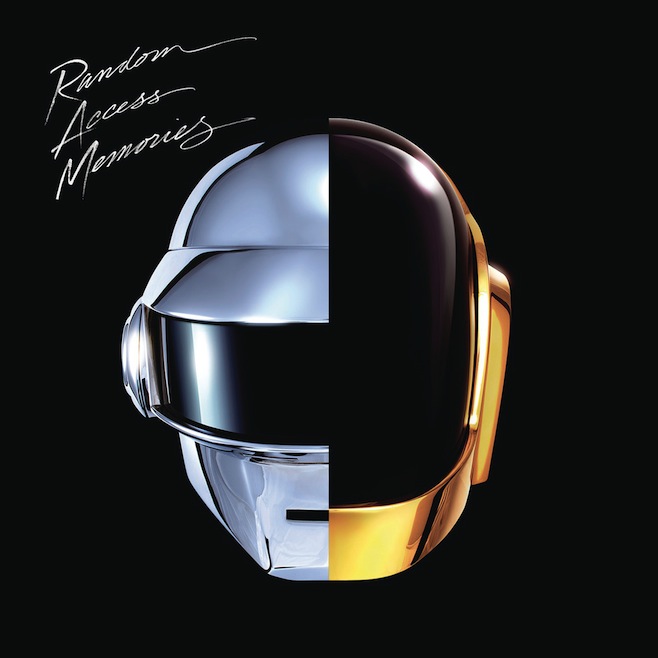 Április 3-án elindult egy videósorozat az album közreműködőiről, Giorgio Moroderrel az élen!

Április 4-én a Kombini.com oldal közzétett az album közreműködőiről egy részletes listát, melyen a bevezetőben említett sztárvendégek mellett Pharrell Williams (The Neptunes/N.E.R.D.) és a Strokes-frontember Julian Casablancas nevét is megtaláljuk!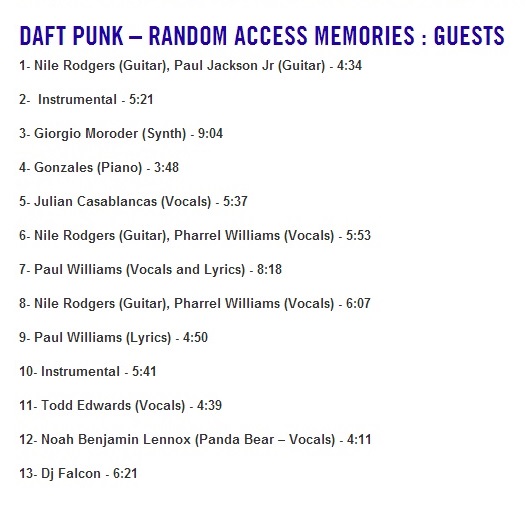 -
Április 12-én a Coachella fesztiválon egy másfél perces kliprészlettel harangozták be a közönségnek a Nile Rodgers és Pharrell Williams közreműködésével készült visszatérő Daft Punk-kislemezdalt, mely várhatóan április 15-én jelenik meg és sejthetően a Get Lucky címet viseli!
Április 13-án megérkezett az album részletes dallistája is!

Daft Punk: Random Access Memories (2013)
1. "Give Life Back To Music" (featuring Nile Rodgers)
2. "The Game Of Love"
3. "Giorgio by Moroder" (featuring Giorgio Moroder)
4. "Within" (featuring Chilly Gonzales)
5. "Instant Crush" (featuring Julian Casablancas)
6. "Lose Yourself To Dance" (featuring Pharrell Williams and Nile Rodgers)
7. "Touch" (featuring Paul Williams)
8. "Get Lucky" (featuring Pharrell Williams and Nile Rodgers)
9. "Beyond"
10. "Motherhood"
11. "Fragments Of Time" (featuring Todd Edwards)
12. "Doin' It Right" (featuring Panda Bear)
13. "Contact" (featuring DJ Falcon)