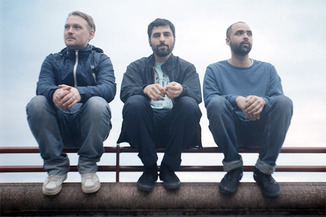 Az 1978-ban argentin szülőktől Svédországban született dalszerző-énekes José González a honfitárs The Knife duó Heartbeats című elektro-pop dalának akusztikus gitáros átiratával lett világhírű egy tévéreklámnak köszönhetően 2005-2006 fordulóján (a feldolgozást tartalmazó Veneer című 2003-as bemutatkozó lemezéből ezután több százezer példányt adott el), majd a 2007-es In Our Nature album turnéján 2008-ban már a Sziget Fesztiválra is eljutott. A finom hangú trubadúr most ismét nálunk lép fel, de ezúttal a Junip együttessel érkezik, melyet a dobos Elias Araya és a billentyűs Tobias Winterkorn társaságában alapított: a svéd trió néhány EP és a Fields című 2010-es első album után idén tavasszal áll elő címnélküli második nagylemezével, melynek turnéja április 30-án ér az A38 Hajóra. A közelgő Junip album első beharangozó dala, a január elején közzétett Line Of Fire már itt MusicPress blogon is meghallgatható, sőt le is tölthető.
http://soundcloud.com/junip/line-of-fire/download

az albumbeharangozó kisfilm:
a Junip két kísérőzenésszel kiegészült turnéfelállása egy 2011-es felvételen:

ráadásként itt van José González 2008-as Sziget-fellépéséről a Heartbeats című The Knife-dal feldolgozása:

a Junip budapesti koncertjének Facebook-oldala
http://www.facebook.com/events/225828944221317
Déri Zsolt
FRISSÍTÉS: február 20-án megérkezett a Line Of Fire című új Junip-dal bizarr klipje (egy páros videó első része) Mikel Cee Karlsson rendezésében!