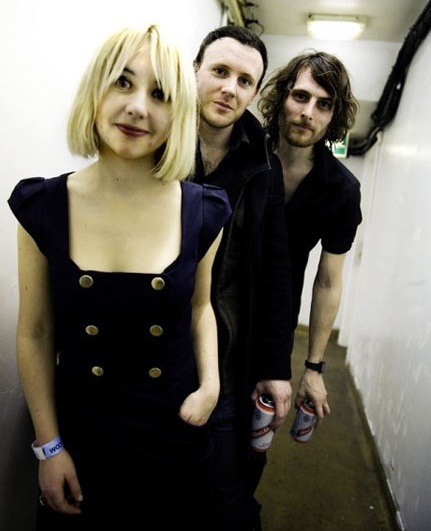 A ma közzétett Crystal Castles-klip után jöjjön egy másik erős női egyéniséggel az élen felálló együttes, melynek a mai napon jelenik meg új albuma: a walesi The Joy Formidable triót egy 28 éves gitáros-énekesnő, Ritzy Bryan vezeti, aki basszista-vokalista pasija, Rhydian Dafydd és a 2009-ben csatlakozott Matt Thomas dobos társaságában lassan Amerikát is meghódítja energikus rockdalaival, melyekbe kilencvenes évekbeli zajos shoegaze hatások is beépülnek. Már első EP-ikkel olyan rajongókat szereztek maguknak, mint a Passion Pit tagjai vagy Dave Grohl (aki a Foo Fighters előzenekaraként is turnéztatta őket), a 2011-es The Big Roar album sikere után az az évi Twilight filmzenelemezre is felkerültek, Wolf's Law című második albumuk amerikai felvételei után a Muse The 2nd Law turnéján vendégeskedtek (a budapesti koncert előtti hónapban, 2012 októberében), a lemezmegjelenése előtti hétvégén pedig Jimmy Fallon műsorában játszhatták This Ladder Is Ours című sikerdalukat – a 11 (+1 rejtett címadó) számot tartalmazó Wolf's Law teljes anyaga alatt ez a tévéfellépés is megtekinthető. 
1. This Ladder Is Ours 
2. Cholla 
3. Tendons 
4. Little Blimp 
5. Bats 
6. Silent Treatment 
7. Maw Maw Song 
8. Forest Serenade 
9. The Leopard And The Lung 
10. The Hurdle 
11. The Turnaround/Wolf's Law 

az album beharangozó klipdalai, a This Ladder Is Ours, a Cholla és a Wolf's Law:

a This Ladder Is Ours előadása január 18-án Jimmy Fallon műsorában:
Déri Zsolt
FRISSÍTÉS: március 18-án érkezett a Little Blimp című dalhoz is egy hatásos klip, melyben 2 perc 50 másodpercre Ritzy Bryan gitárjának érezhetjük magunkat!