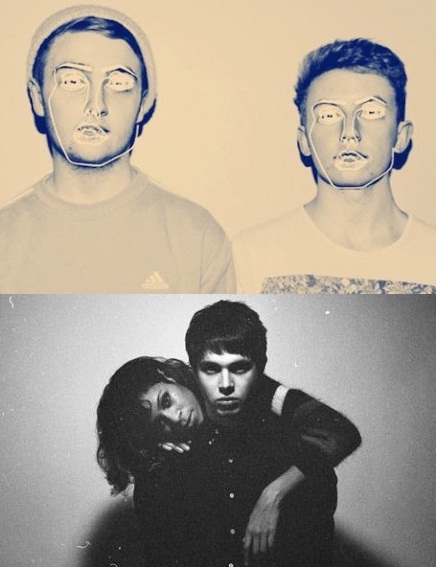 Egyesítette erőit az elmúlt hónapok két legdivatosabb brit tánczenei párosa: a producer-testvérpár Guy és Howard Lawrence alkotta Disclosure ereje az ezredforduló környéki garage ügyes aktualizálásában rejlik, de vendéghangokra van szükségük a mainstream sikerhez (Jessie Ware egy hatásos remixért cserébe már többször fellépett velük, a Sam Smith által felénekelt Latch pedig az eddigi legnagyobb slágerük lett, még ha a Top 10-be nem is jutott be), a BBC Sound Of 2013 listán a legjobb hazai előadóként második helyet szerző AlunaGeorge popduóban viszont George Reid producer mellett ott van Aluna Francis énekesnő is – és ezzel össze is állt a nyerő képlet. A White Noise című közös dalnak – mely március 24-én jelenik meg kislemezen, és a nyárra elkészülő első Disclosure-albumra is felkerül – ma este volt a premierje BBC-n Zane Lowe műsorában és a két duó SoundCloud-oldalán, de most már itt a MusicPress blogon is hallható (ahogy az AlunaGeorge két 2013-ban bemutatott új száma, a Diver és a Body Music is).

az előző Disclosure-kislemezdal, a Latch klipje:

két friss dal a nyáron érkező első AlunaGeroge-albumról, a Diver és a Body Music:
Déri Zsolt
FRISSÍTÉS: egy nappal később az AlunaGeorge duó közzétette június 3-án megjelenő albumának dallistáját!
AlunaGeorge: Body Music (2013)
1. You Know You Like It
2. Just A Touch
3. Your Drums, Your Love
4. Attracting Flies
5. Body Music
6. Bad Idea
7. Friends To Lovers
8. Superstar
9. Kaleidoscope Love
10. Outlines
11. Diver
12. Be Your Boo

FRISSÍTÉS: a brit kislemezlistán 2. (a tánczenei listán 1.) helyig jutó közös Disclosure/AlunaGeorge-dalhoz február 15-én a 26 éves glasgow-i DJ-producer Hudson Mohawke is közzétett egy remixet!

FRISSÍTÉS: február 21-én érkezett egy videoklip is a White Noise-hoz!