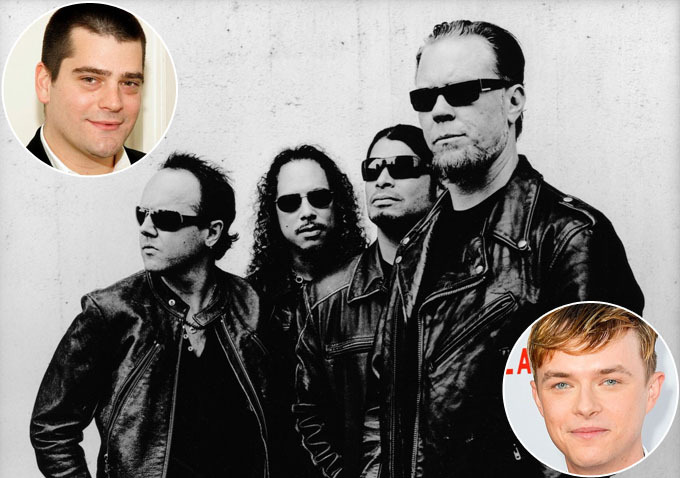 Az elmúlt éjszaka, amíg Dave Grohl és a Slipknot-frontember Corey Taylor közös dalával, meg a Nirvana-tagokat újra összehozó Sound City Players szupergrupp próbatermi videójával voltunk elfoglalva, a Metallica is kiadott egy közleményt közelgő filmbemutatójáról: a tavaly Antal Nimród rendezésében Vancouverben forgatott 3D-s mozi – melyben James Hetfieldék monumentális koncertfelvételei mellett narratív szál is lesz a zenekar egy fiatal roadjának kalandjairól, Az erő krónikája és Fékezhetetlen című filmekből ismert Dane DeHaan főszereplésével – augusztus 9-én kerül a mozikba Metallica Through The Never címmel, a Picturehouse nevű független filmforgalmazó cég égisze alatt! "Nim és a zenekar olyan filmet készített, ami igazán jól megragadja a Metallica és sokmilliónyi hűséges rajongója szellemiségét. Ez egy szórakoztató zsánerfilm egy koncerttel a közepén, fergeteges moziélmény egy izgalmas fiatal színész szereplésével" – nyilatkozta a cég alapító-vezérigazgatója, Bob Berney.

a Metallica legutóbbi kiadványa, a 2009-ben rögzített Quebec Magnetic koncertfilm, mely 2012 decemberében jelent meg DVD-n, itt teljes egészében megtekinthető:
0:00:00 The Ecstasy Of Gold
00:01:36 That Was Just Your Life
00:08:47 The End Of The Line
00:16:58 The Four Horsemen
00:22:09 The Shortest Straw
00:28:08 One
00:38:07 Broken, Beat & Scarred
00:45:30 My Apocalypse
00:51:25 Sad But True
(00:56:32 Bass solo)
00:57:13 Welcome Home (Sanitarium)
01:03:24 The Judas Kiss
(01:11:17 Kirk guitar solo1)
01:13:12 The Day That Never Comes
01:21:09 Master of Puppets
01:29:29 Battery
(01:34:51 Kirk guitar solo 2)
01:36:23 Nothing Else Matters
01:42:08 Enter Sandman
Déri Zsolt
FRISSÍTÉS: április 24-én a zenekar közleményben tudatta, hogy a Metallica Through The Never film augusztus helyett szeptember 27-én kerül a közönség elé, viszont akkor egy teljes héten át Észak-Amerika összes (több mint 300) IMAX-terme azt fogja vetíteni, majd október 4-től már a normál 3D mozikban is megnézhető lesz.
FRISSÍTÉS 2: ... és május 22-én az első mozielőzetes is megérkezett!

további MusicPress-posztok a Facebookon:
http://facebook.com/MusicPressBlog