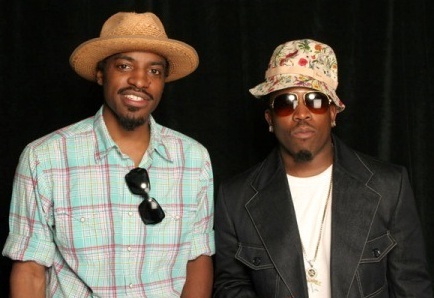 Az elmúlt éjszaka folyamán nemcsak a Destiny's Child trió visszatérő dalának premierjére került sor több mint hét év kihagyás után (Nuclear), de megérkezett hosszú idő után az első olyan hivatalos felvétel is, melyen az OutKast két tagja, André 3000 (született: André Lauren Benjamin) és Big Boi (Antwan André Patton) együtt hallható. Az atlantai hiphop duó 2006-ban jelentetett meg utoljára albumot (Idlewild), de a Sir Lucious Left Foot: The Son Of Chico Dusty című első Big Boi-szólólemezre végül nem kerültek fel a terveztek közös dalok (a Royal Flush-t digitális kislemezként publikálták 2007-ben, a Lookin For Ya pedig 2010 nyarán szivárgott ki a netre), ahogy Big második szólóanyagán, a 2012 legjobb lemezei közé tartozó Vicious Lies And Dangerous Rumors albumon sem volt hallható André 3000 hangja. Hallható volt viszont egy még jobb tavalyi lemezen, Frank Ocean pazar Channel Orange albumán a Pink Matter című számban, amelyet az ifjú R&B-énekes eredetileg OutKast-kollaborációnak szeretett volna, de ezt André akkor megvétózta. Most azonban Big Boi elkészíthetett a dalból egy hivatalos remixet, amire egy saját versszakot is felreppelt, így itt már együtt szerepel az OutKast tagsága. A premiert az East Village Radio adásában tartották, és most már itt a MusicPress blogon is meghallgatható a közös felvétel.

Big Boi plusz dalszövege saját kézírásával::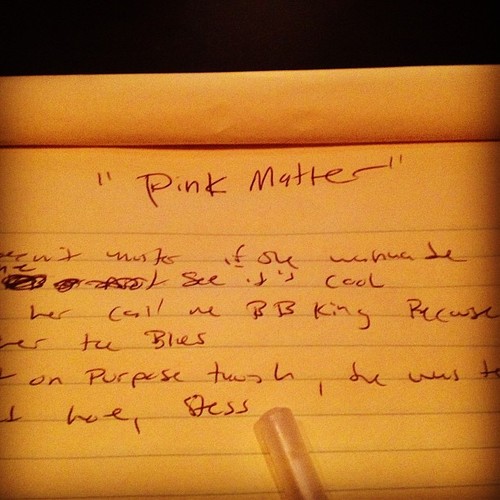 http://bigboi.tumblr.com/post/39171455208

az OutKast-tagok két legutóbbi közös felvétele, amelyek végül nem kerültek fel Big Boi 2007 és 2010 között készülő első szólóalbumára:
Big Boi feat. Raekwon & André 3000: Royal Flush
Big Boi feat. André 3000 & Sleepy Brown: Lookin For Ya

ráadásként itt van Big Boi briliáns évnyitó tévéfellépése David Letterman műsorában az új albumáról való Apple Of My Eye élő előadásával, melybe a dal fehér társproducer-vokalistája, Jake Troth is beszállt:
Déri Zsolt

FRISSÍTÉS: André 3000 a Spin magazinnak január 15-én küldött levelében kijelentette, hogy nem tekinti valódi OutKast-kollaborációnak ezt a kiegészített Pink Matter verziót, ahogy azt a majdani remixet sem, melyet Big Boi hasonló módon kíván elkészíteni T.I. és André 3000 novemberben megjelent Sorry című közös dalához!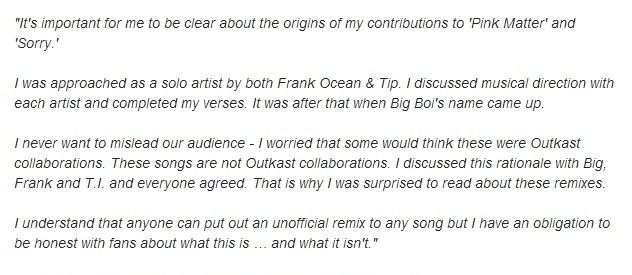 http://spin.com/articles/outkast-andre-3000-big-boi-reunion-rumors

...és az is január 15-én történt, hogy Big Boi fellépett Jimmy Kimmel show-jában, és előadta albumáról a Phantogram duóval közös CPU című dalt!