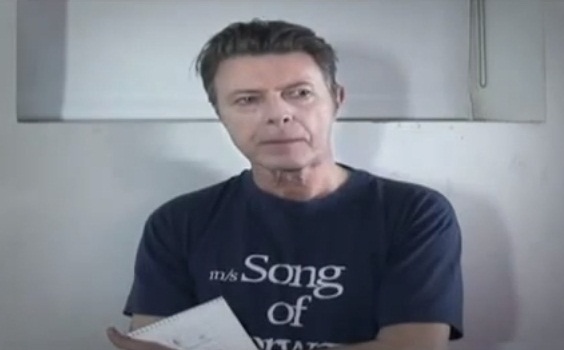 Tegnap a Suede együttes tért vissza egy évtized után egy új stúdiófelvétellel, ma pedig – még nagyobb szenzációként – Brett Andersonék legnagyobb példaképe, David Bowie tette ugyanezt! Az utolsó albumát 2003-ban megjelentető, majd a turnézástól 2004-es szívműtétje után visszavonuló, koncertszínpadra utoljára 2006-ban lépő énekes a 66. születésnapjának hajnalán nagy meglepetéssel állt elő: egy évtized után egy vadonatúj dalt tett közzé a hozzá tartozó minimalista (lyric) videóval együtt, sőt a Where Are We Now? című szerzemény mellé rögtön egy új albumot is beígért március 8-ra The Next Day címen! A lemez teljes titokban készült New Yorkban az 1969 és 2003 között már sokszor segítő Tony Visconti producerrel, a berlini emlékekkel teli videót pedig Tony Oursler jegyzi. (FRISSÍTÉS: a klipben Bowie mellett szereplő másik arc a rendező felesége, Jacqueline Humphries).
az új album számlistája, a deluxe kiadás bónuszdalaival együtt:
David Bowie: The Next Day (2013)
1. "The Next Day" 3:51
2. "Dirty Boys" 2:58
3. "The Stars (Are Out Tonight)" 3:56
4. "Love Is Lost" 3:57
5. "Where Are We Now?" 4:08
6. "Valentine's Day" 3:01
7. "If You Can See Me" 3:15
8. "I'd Rather Be High" 3:53
9. "Boss of Me" 4:09
10. "Dancing Out In Space" 3:24
11. "How Does the Grass Grow?" 4:33
12. "(You Will) Set the World On Fire" 3:30
13. "You Feel So Lonely You Could Die" 4:41
14. "Heat" 4:25
+
1. "So She" 2:31
2. "I'll Take You There" 2:44
3. "Plan"

ráadásként itt az elmúlt hónapok legjobb Bowie-tribute produkciója a belga Soulwax kvartett 2manydjs néven is ismert vezéreitől, David és Stephen Dewaele-től, akiknek egyórás mixére Wim Reygaert rendezett filmet Hannelore Knuts modell-színésznővel a főszerepben:
Déri Zsolt

FRISSÍTÉS: bármilyen hihetetlen, tényleg így néz ki a kislemez és az album borítója – a vizuáltervező Jonathan Barnbrook, amint azt lenti blogbejegyzésében is elmondja, az énekes felkérésére Bowie hetvenes évek közepéről való híres képeit fordította ki és dekonstruálta!
http://virusfonts.com/news/2013/01/david-bowie-the-next-day-that-album-cover-design