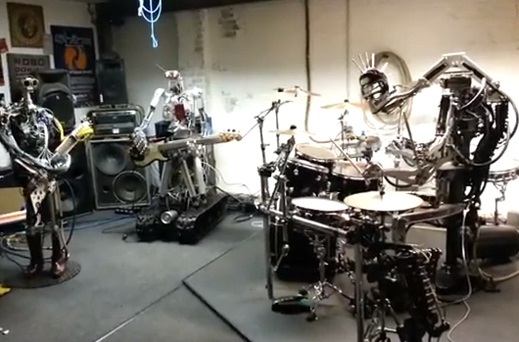 A Compressorhead együttes a legigazibb heavy metal zenekar, mivel tagjai tényleg nehéz fémből vannak. A 2007-ben üzembe állított négykezű-kétlábú dobos Stickboy és a 2009-ben mellé került 78 ujjú gitáros Fingers már többször közönség elő léptek hazájukban, Németországban és pár más európai országban, de metál és punk-rock feldolgozásokat játszó együttesük csak 2012 második felében nyerte el rendes felállását a lánctalpas basszusgitáros Bones csatlakozásával, és az eddigi legnagyobb publicitást épp a napokban kapják, ugyanis január második felében ott lesznek a Red Hot Chili Peppers és a Killers nevével fémjelzett ausztráliai Big Day Out fesztiválturné összes állomásának mindkét nagyszínpadán – és tegnap megérkezett a legfrissebb videójuk a berlini próbatermükből, ahol immár triófelállásban épp az Ace Of Spades című Motörhead-slágert gyakorolják!

néhány videó még a kéttagú felállás idejéből:
a TNT című AC/DC-feldolgozás 2012 tavaszán egy német tévéműsorban:
a Becoming című Pantera-dal egy 2009-es előadása egy francia fellépésén:
az Unsung című Helmet-szám átirata szintén 2009-ből, egy sheffieldi bemutatón:

a Compressorhead-koncertek repertoárja:
Ace Of Spades – Motorhead
Bad – No Means No
Banana Splits Theme
Blitzkreig Bop – Ramones
Bullet In The Head – Rage Against The Machine
I Love Rock and Roll – Joan Jett
IronMan – Black Sabbath
Rock and Roll – Led Zeppelin
Rumble – Link Wray
Should I Stay Or Should I Go – The Clash
TNT – AC/DC
Unsung – Helmet
Whole Lotta Love – Led Zeppelin
Wilmas Rainbow – Helmet
Déri Zsolt
FRISSÍTÉS: január közepén a Blitzkrieg Bop című Ramones-sláger előadása is felkerült a robotzenekar YouTube-csatornájára, majd megtörtént az ausztráliai bemutatkozás a Big Day Out fesztiválon is!