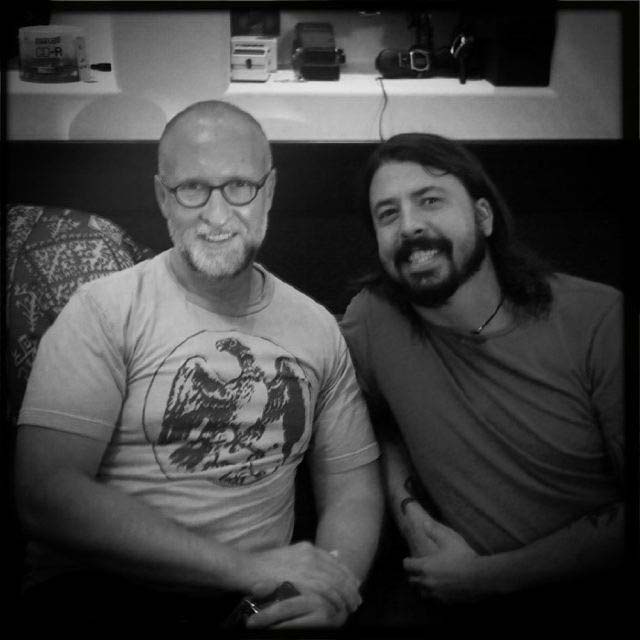 A múlt hetet Dave Grohl uralta itt a MusicPress blogon – a Nirvana-tagok és Paul McCartney közös dalával és annak két élő előadásával, a Sound City filmzenelemez bejelentésével és a Rocket From The Cryptnél vállalt producerségével – és most ismét visszatér a hírrovatba: ezúttal Bob Mould koncertfilmjének sztárvendégeként! A See A Little Light: A Celebration Of The Music And Legacy Of Bob Mould című film a Hüsker Dü és Sugar együttesek legendás gitáros-énekes vezérének tavaly november 21-én adott Los Angeles-i koncertjét örökíti meg, melyre Mould egyik legnagyobb sztárrajongója, Dave Grohl is beugrott féltucat Hüsker Dü-dal erejéig. A film bejezésére a Kickstarter oldalán gyűjtik a pénzt, és ennek az akciónak a keretében tegnap éjjel közzétettek a készülő műből egy ötperces részletet is, ahol Mould és Grohl épp az Ice Cold Ice című dalt gitározza és énekli duettben.
a készülő koncertfilm beharangozó videója a Kickstarter oldalán:

néhány rajongói videó a koncertről:
Bob Mould felkonferálja Dave Grohlt:
a Hardly Getting Over It, Could You Be The One? és Ice Cold Ice című dalok...
....majd a Chartered Trips és New Day Rising című számok előadása:

a koncert teljes dallistája:
I Apologize (Hüsker Dü song) (with No Age)
In A Free Land (Hüsker Dü song) (with No Age)
Hardly Getting Over It (Hüsker Dü song) (with Dave Grohl)
Could You Be The One? (Hüsker Dü song) (with Dave Grohl)
Ice Cold Ice (Hüsker Dü song) (with Dave Grohl)
Something I Learned Today (Hüsker Dü song) (with Dave Grohl)
Chartered Trips (Hüsker Dü song) (with Dave Grohl)
New Day Rising (Hüsker Dü song) (with Dave Grohl)
Hoover Dam (Sugar song)
If I Can't Change Your Mind (Sugar song)
Celebrated Summer(Hüsker Dü song)
Makes No Sense At All (Hüsker Dü song)
See A Little Light (with No Age & Dave Grohl)
http://www.kickstarter.com/projects/921079765/bob-mould-the-disney-hall-concert-film
Déri Zsolt