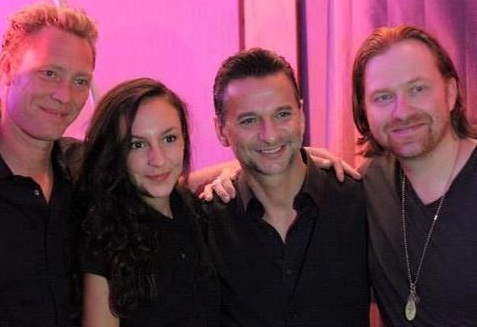 Amíg a Depeche Mode – legfrissebb hírek szerint 2013 márciusában megjelenő – új albumára és Budapestet is érintő turnéjára várunk, nézzük meg a frontember Dave Gahan egyetlen 2012-es koncertjét, melyet a Soulsavers kollektívával közösen adott. A két brit multiinstrumentalista-producer, Rich Machin és Ian Glover által alapított együttes egy évtizedes fennállása során végig válogatott énekesekkel dolgozott: Mark Lanegan, Bonnie 'Prince' Billy, Richard Hawley, Josh Haden (Spain), Jimi Godwin (Doves), Jason Pierce (Spiritualized), Gibby Haynes (Butthole Surfers) és Mike Patton (Faith No More, Fantômas, Tomahawk stb.) után az idén májusban megjelent The Light The Dead See album már teljes egészében a DM-frontember szövegeire és énekhangjára támaszkodott – ám csupán egyetlen zárkörű koncert tartozott hozzá július 21-én a Capitol lemezcég hollywoodi főhadiszállásán (az ott készült fenti fotó jobb oldalán Rich Machin, a bal oldalán a basszusgitáros Martyn LeNoble és csellista lánya, Marlon LeNoble látható Gahan mellett). A fellépésen forgatott videoanyag premierjére csak a mai napon került sor a Rolling Stone magazin honlapján – és a félórás koncertfelvétel már itt a MusicPress blogon is végignézhető!

a fellépésen elhangzott Soulsavers-számok:
1. Presence Of God
2. In The Morning
3. Bitterman
4. Just Try
5. Take Me Back Home
6. Tonight
7. Gone Too Far
a teljes The Light The Dead See album:
1. "La Ribera" (Instrumental) 
2. "In The Morning" 
3. "Longest Day" 
4. "Presence Of God" 
5. "Just Try" 
6. "Gone Too Far" 
7. "Point Sur Pt. 1" (Instrumental) 
8. "Take Me Back Home" 
9. "Bitterman" 
10. "I Can't Stay" 
11. "Take" 
12. "Tonight" 
a Take Me Back Home című dal videoklipje, alatta pedig egy négyrészes interjú az új Soulsavers-album születéséről:
Déri Zsolt