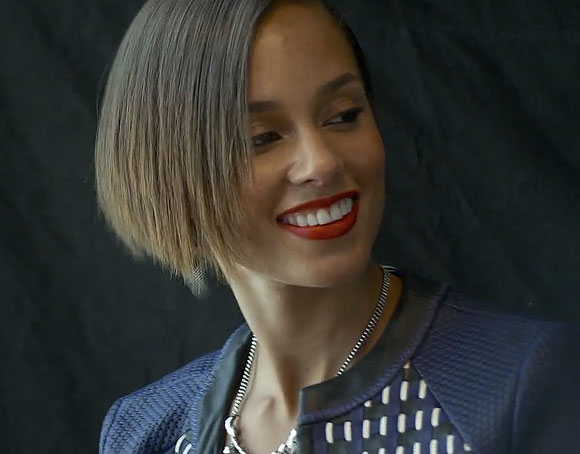 Alicia Keys annyira jó volt az elmúlt éjszakai 12-12-12 szuperkoncerten (sőt a Nirvana-tagokkal fellépő Paul McCartney után végül meglepetésre még egyszer színpadra lépett és Sir Paul zenekarának kíséretével ő zárta az egész hatórás műsort Empire State Of Mind című New York-himnuszával), hogy álljon itt most a MusicPress blogon a vadonatúj lemezének, a múlt héten a Billboard-listát is vezető Girl On Fire albumnak a teljes anyaga, melyen a szülési szabadság után új fazonnal visszatérő 31 éves fekete zongorista-énekesnő olyan társszerzőkkel dolgozott együtt, mint a skót Emeli Sandé (Brand New Me, Not Even The King, 101), Frank Ocean (One Thing) vagy John Legend (Listen To Your Heart, When It's All Over – sőt ez utóbbi számnak nem más volt a programozó-producere, mint a brit The XX tagja, Jamie XX).

FRISSÍTÉS: a teljes lemez a YouTube-on!
1. De Novo Adagio (Intro)
2. Brand New Me
3. When It's All Over
4. Listen To Your Heart
5. New Day
6. Girl On Fire
7. Fire We Make
8. Tears Always Win
9. Not Even the King
10. That's When I Knew
11. Limitedless
12. One Thing
13. 101

az albumot beharangozó címadó dal, a Girl On Fire három verziója: a kislemezverziójának klipje...
....az albumon hallható Inferno alcímű verzió Nicki Minaj közreműködésével...
...és a Bluelight Version lecsupaszított hangzással és eltérő éneksítlussal:

Alicia Keys fellépése a 12-12-12 koncerten és az utána készült interjú:
Déri Zsolt
FRISSÍTÉS: december 18-án közzétették az Emeli Sandéval közösen írt Brand New Me című kislemezdal klipjét is, melyben Alicia egy Puerto Ricó-i születésű színésszel, Kamar de los Reyesszzel közösen szerepel – és vélhetően egy videosorozat első részét látjuk!