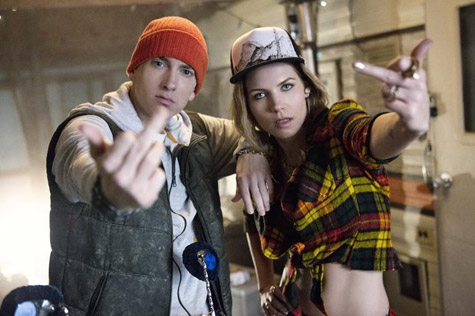 Skylar Grey másfél-két éve az egyik legnagyobb női dalszerző-előadó ígéretnek tűnt, de a zeneipar jól bedarálta. Az 1986-ban Holly Brook Hafermann néven született és 2006-ban Holly Brook néven egy szende dalszerző-előadói nagylemezt (Like Blood Like Honey) jegyző multiinstrumentalista-énekesnő 2010-2011 táján már Skylar Grey művészévre váltva óriási hiphop/R&B slágerek refrénjét írta és énekelte fel P.Diddy (Coming Home), Lupe Fiasco (Words I Never Said), Dr. Dre és Eminem számára (I Need A Doctor), sőt a 2010-es évek legnagyobb Eminem-sikerét hozó Love The Way You Lie refrénje is az ő szerzeménye, csak azt végül Rihanna énekelte fel helyette. A Love The Way You Lie-ért rögtön Grammy-díjra jelölt Skylar fellépett a 2011-es Grammy-gálán, készülő szólólemezéhez közös felvételt készített Marilyn Mansonnal, kislemezdalaihoz David Lynch-től és TV On The Radio-tag David Sitektől kapott remixeket, Bruno Mars előzenekari posztján turnézott, énekelt a dalai lámának is... ám a 2011 végére tervezett Invinsible című első Skylar Grey-album megjelenési dátuma egyre csak csúszott, és a momentum elveszett. Dátum még még most sincs (egyelőre 2013 tavaszára van belőve, és már Don't Look Down az albumcím), de úgy tűnik átfazonírozás és stílusváltás van: Skylar új kislemezdala, az Eminemmel közös C'mon Let Me Ride – melyben a rapper a Queen-féle Bicycle Race-ből is énekel egy sort – annyira szégyenletesen szar lett, hogy azon már a szokásos vicces videó (ironizálás olcsó szexuális kliséken, plasztikai műtét láncfűrésszel stb.) is alig tud menteni, de azért álljon itt elrettentő példaként egy ígéretes karrier megcsúfolására.

emlékeztetőül pár szerzemény Skylar Grey előző két évéből:
Eminem feat. Rihanna: Love The Way You Lie (2010)
Diddy – Dirty Money feat. Skylar Grey: Coming Home (2010)
Dr. Dre feat. Eminem & Skylar Grey: I Need A Doctor (2011)
Lupe Fiasco feat. Skylar Grey: Words I Never Said (2011)

Skylar két saját klipje 2011-ből, a Dance Without You és az Invisible:

http://www.skylargreymusic.com

Déri Zsolt

FRISSÍTÉS: az Eminemmel közös új videoklip werkfilmje, interjúkkal!