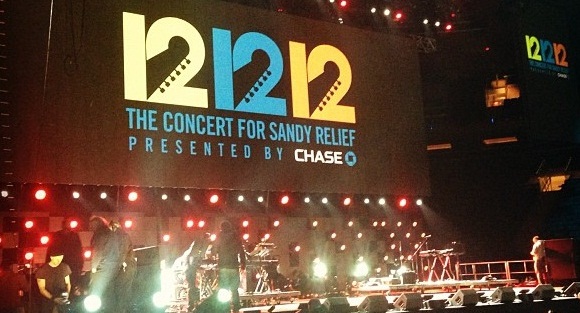 2012. december 12-én New York-i idő szerint este fél 8-tól a Madison Square Gardenben tartják a 12-12-12: The Concert for Sandy Relief jótékonysági szuperkoncertet az októberi Sandy hurrikán áldozatainak megsegítésére, olyan fellépőkkel, mint a Rolling Stones, a Who, Bruce Springsteen & The E Street Band, Alicia Keys, Eric Clapton, Billy Joel, Chris Martin, Kanye West, Roger Waters és Eddie Vedder. Ha már a MusicPress volt az első magyar zenei oldal, amelyik hírt adott az est legnagyobb meglepetés-szenzációjáról, a Nirvana túlélő tagjainak Paul McCartney-val közös fellépéséről, hát természetesen maga az élő koncertközvetítés is egyenes adásban nézhető itt magyar idő szerint éjjel fél 2-től. (Időközben a hivatalosan "Dave Grohl és barátai" név alatt jegyzett blokkból Krist Novoselic basszista elárulta, hogy egy olyan új szerzeményt adnak elő, mely mintha a legvadabb Beatles-dalok közé számító Helter Skelter és a Nirvana-féle Scentless Apprentice keveréke lenne.) FRISSÍTÉS: ahogy véget ért a koncert, pár perccel később máris elkezdték ismételni a hatórányi élő közvetítés teljes felvételét!
(amint megérkezik a műsor pontos programja, idekerül az is)
FRISSÍTÉS: a zenei fellépők sorrendje egy kiszivárgott menetrend szerint!
Bruce Springsteen & The E Street Band (30 perc)
Roger Waters (30 perc) + a végén Eddie Vedder
Bon Jovi (20 perc)
Eric Clapron (15 perc)
The Rolling Stones (15 perc)
Alicia Keys (10 perc)
The Who (30 perc)
Kanye West (10 perc)
Billy Joel (30 prec)
Chris Martin (10 perc)
Paul McCartney (30 perc) + Diana Krall + Dave Grohl & Friends
FRISSÍTÉS 2: a koncerten elhangzott dalok listája!
Bruce Springsteen and the E Street Band
Land of Hope and Dreams
Wrecking Ball
My City of Ruins
Born To Run (w/ Jon Bon Jovi)
Living On A Prayer
Roger Waters
In The Flesh
The Happiest Days of Our Lives
Another Brick In The Wall Pt. 2
The Ballad Of Jean Charles de Menezes
Money
Us and Them
Comfortably Numb (w/ Eddie Vedder)
Adam Sandler
Hallelujah (parody) (w/ Paul Shaffer)
Bon Jovi
It's My Life
Wanted Dead or Alive
Who Says You Can't Go Home (w/ Bruce Springsteen)
Living On A Prayer
Eric Clapton
Nobody Knows You When You're Down and Out
Got To Get Better In A Little While
Crossroads
The Rolling Stones
You Get Me Rocking
Jumping Jack Flash
Alicia Keys
Brand New Me
No One
The Who
Who Are You
Bell Boy
Pinball Wizard
See Me Feel Me/Listening To You
Baba O'Riley
Love Reign O'er Me
Tea and Theatre
Kanye West
Clique > Mercy > Power > Jesus Walks > All Of The Lights > Diamonds From Sierra Leone > Diamonds > Touch The Sky (medley)
Gold Digger
Good Life
Runaway
Stronger
Billy Joel
Miami 2017 (Seen The Lights Go Out On Broadway)
Movin' Out (Anthony's Song)
Have Yourself A Merry Little Christmas > New York State Of Mind
River Of Dreams
You May Be Right
Only The Good Die Young
Chris Martin:
Viva La Vida
Losing My Religion (w/ Michael Stipe)
Us Against The World
Paul McCartney:
Helter Skelter
Let Me Roll It
1985
My Valentine (w/ Diana Krall)
Blackbird
Cut Me Some Slack (w/ Dave Grohl, Krist Novoselic & Pat Smear)
I've Got A Feeling
Live and Let Die
Alicia Keys
Empire State Of Mind

Krist Novoselic Twitter-üzenete a "Szent Pál" társaságában készült új dalról: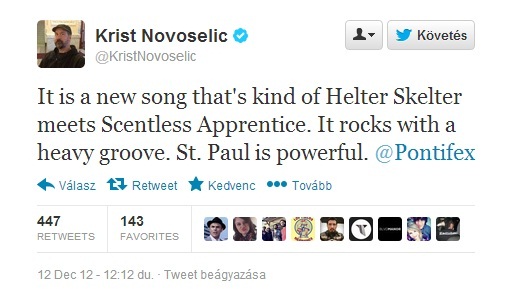 http://twitter.com/KristNovoselic/status/278955503294504960

az est fellépői a Sandy hurrikán pusztításáról és a segélykoncertről mesélnek:
Déri Zsolt