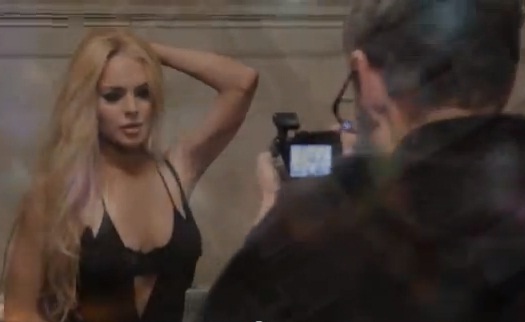 Egy évvel az R.E.M. feloszlása után új videoklip érkezett az utolsó album, a Collapse Into Now záródalához, a Patti Smith társaságában írt (és az énekesnő vokálja mellett négy évtizede hűséges gitárosának, Lenny Kaye-nek a szólójával is díszített) Blue című számhoz, és a Lindsay Lohant egy Terry Richardson fotózáson mutató kisfilmnek nem más a rendezője, mint a színészet mellett mostanában Daddy nevű zenekarával is elfoglalt James Franco (az R.E.M. a Collapse Into Now Film Project keretében az album összes dalához rendelt videókat művészbarátoktól, és a feloszláskor már csak pár darab hiányzott, köztük a két Franco által vállalt klip, és azok közül most csak megérkezett az egyik.).

a Collapse Into Now Film Proeject elkészült klipjei egybegyűjtve
Discoverer
All The Best
ÜBerlin
It Happened Today
Oh My Heart
Every Day Is Yours To Win
Mine Smell Like Honey
Walk It Back
Alligator_Aviator_Autopilot_Antimatter
+
interjú a Collapse Into Now kisfilmsorozatról a 2011-es SXSW fesztiválon

a teljes filmprojekt a rendzők nevével, a még hiányzó videók dőlt betűkkel jelölve:
R.E.M. – Collapse Into Now Film Project
1. Discoverer (Michael Stipe & Lynda Stipe)
2. All The Best (James Herbert)
3. Überlin (Sam Taylor-Wood)
4. Oh My Heart (Jem Cohen)
5. It Happened Today (Tom Gilroy)
6. Every Day Is Yours To Win (Jim Mckay, Chris Moukarbel & Valerie Veatch)
7. Mine Smell Like Honey (Dominic Dejoseph)
8. Walk It Back (Sophie Calle)
9. Alligator_Aviator_Autopilot_Antimatter (Lance Bangs)
10. That Someone Is You (James Franco)
11. Me, Marlon Brando, Marlon Brando And I (Albert Maysles & Bradley Kaplan)
12. Blue (James Franco)
Déri Zsolt
FRISSÍTÉS: 2012 végén két James Francónak tulajdonított That SomeOne Is You videó is feltűnt a neten (az első egy Grease stílusgyakorlat Anne Hathaway arca helyén egy cicafejjel), de egyik sem lett hivatalos munkaként elkönyvelve!