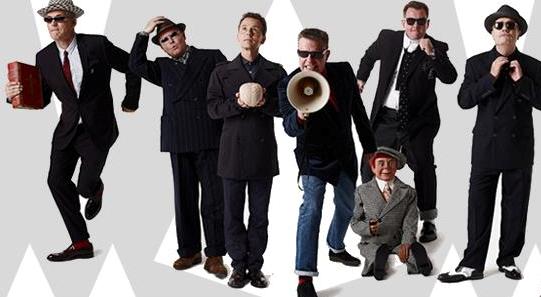 A valóságos brit nemzeti intézménynek számító – az idei nyáron a királynő gyémántjubileuma alkalmából a Buckingham Palota tetején, majd az olimpiai záróünnepségen is fellépő – Madness időről időre új lemezeket is készít: a 2012. október 29-én megjelenő Oui, Oui, Si, Si, Ja, Ja, Da, Da album már a legendás ska zenekar a tizedik sorlemeze lesz, melyről az augusztusi beharangozó szám, a Death Of A Rude Boy után a tegnapi napon a My Girl 2 című nyitódalt is közzétették. Mint a sorszám is jelzi, a billentyűs Mike Barson bő három évtized után írt egy folytatást  – vagy ha úgy tetszik: testvérdarabot  – az 1979-es első Madness-album My Girl című nagy slágeréhez (sőt közben egy motívummal a Tainted Love című soul klasszikusra és egyben annak new wave-es feldolgozására is kacsint).
emlékeztetőül itt a My Girl című szám is, az 1979-es One Step Beyond albumról:

az új lemez Death Of A Rude Boy című első beharangozó dala:

az album dallistája a lemezborítóval, melyet a neves brit pop art művész, a nyolcvanéves Peter Blake tervezett, aki a Beatles-féle Sgt. Pepper's Lonely Hearts Club Band borítóját is jegyzi:

Madness: Oui, Oui, Si, Si, Ja, Ja, Da, Da (2012)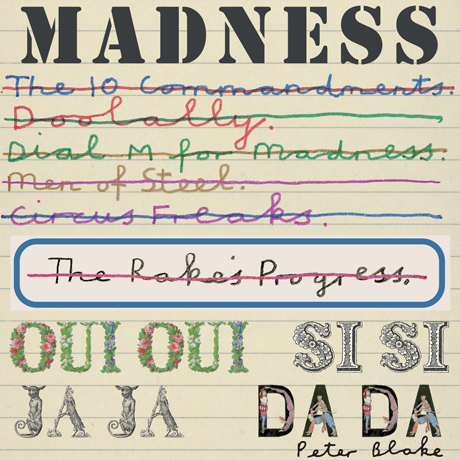 1. "My Girl 2" 2:51 
2. "Never Knew Your Name" 3:28 
3. "La Luna" 3:38 
4. "How Can I Tell You?" 3:18
5. "Kitchen Floor" 3:21
6. "Misery" 3:16
7. "Leon" 4:48 
8. "Circus Freaks" 3:15
9. "So Alive" 2:58 
10. "Small World" 3:46 
11. "Death Of A Rude Boy" 3:50 
+
12. "Powder Blue" 3.47 
13. "Black And Blue" 3:01 
14. "My Girl 2 (Clive Langer & Charlie Andrew Mix)" 3:01


Déri Zsolt
FRISSÍTÉS: a cikk publikálásának másnapján a zenekar YouTube-csatornáján a My Girl 2 kapott egy videót, melyet a gitáros Chris Foreman vágott össze, s melyben a dalcímhez illően egy seregnyi lány bukkan fel az elmúlt csaknem egy évszázadból Louise Brooks némafilmszínésznőtől a Pussy Riot-tagokig!
a nevek a felbukkanás sorrendjében, idézőjelek között a filmek/videók címeivel:

Louise Brooks "Blackbird", Fay Wray "King Kong", Grace Jones "Citroen CX", Marilyn Monroe "Gentlemen Prefer Blondes", The Duchess, Jack Lemmon and Tony Curtis "Some Like it Hot", Rita Hayworth "Gilda", Jane Fonda "Barberella", Margeret Dumont Groucho Marx "Duck Soup", Jack Haley "The Wizard of Oz", Uma Thurman "Kill Bill Vol 1", Diana Rigg, Patrick Macnee "The Avengers",Lynda Carter "Wonder Woman", Joan Crawford "Johnny Guitar", Lara Croft, Kristanna Loken "Terminator 3", Nancy Sinatra "These Boots Are Made For Walking" The Pontani Sisters "Hully Gully", Joey Dee & The Starliters "Peppermint Twist", Martini Advert, Jayne Mansfield " The Girl Can't Help It", Lady Miss Kier/Dee Lite "Groove is in The Heart", Betty Cooper "Sugar Sugar", PUSSY RIOT, Mary Poppins, Goldie Hawn, Audrey Hepburn, Peter O Toole "How To Steal A Million",The Invisible Woman, Miss World, Barbara Windsor "Carry On Camping", Peggy Fleming, Colgate Ad, Josephine Baker, Joan Collins, Jenny Logan ,"Shake and Vac Ad", Joe E. Brown, Jack Lemmon, "Some Like it Hot", Carolyn Jones, John Astin "The Addams Family"