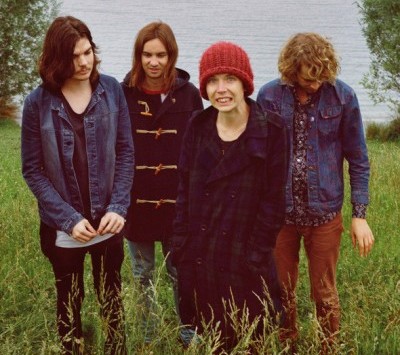 A dalszerző-producer-gitáros-énekes Kevin Parker vezetésével az ausztráliai Perth-ben alakult Tame Impala már 2010-es bemutatkozó albumával, az Innerspeakerrel rögtön a legizgalmasabb új rockzenekarok közé ugrott, és ezt a pozíciót most a Lonerism című második lemez is csak bebetonozza – főleg, hogy ezúttal is a Flaming Lips házi producere, Dave Fridmann gondoskodott a masszív hanganyag keveréséről (nem véletlen, hogy a két együttes közös számot is készített a tavasszal megjelent The Flaming Lips And Heady Fwends albumra). A hatvanas-hetvenes évek fordulójának pszichedelikus rockját megidéző, Beatles-harmóniákat fuzz effektbe csomagoló ausztrál kvartett október 5-én megjelenő monumentális lemeze egy hétig itt a MusicPress blogon is meghallgatható.
FRISSÍTÉS: az album az alábbi YouTube-lejátszón dalonként is hallgatható!
a lemez borítója és dallistája:
Tame Impala: Lonerism (2012)
1. Be Above It
2. Endors Toi
3. Apocalypse Dreams
4. Mind Mischief
5. Music To Walk Home By
6. Why Won't They Talk To Me?
7. Feels Like We Only Go Backwards
8. Keep On Lying
9. Elephant
10. She Just Won't Believe Me
11. Nothing That Has Happened So Far
      Has Been Anything We Could Control
12. Sun's Coming Up

az Elephant című kislemezdal klipje, amit (sajnos) ugyanaz a Yoshi Sodeoka készített, aki az új Yeasayer-album dalfüzérének "háttérképek drogozáshoz" típusú vizuáljait is jegyzi:
az új Tame Impala-lemez nyáron közzétett beharangozó kisfilmje:
Déri Zsolt
FRISSÍTÉS: az új Tame Impala-album nagy siker a pop-rock feldolgozásairól elhíresült New York-i PS22 gyerekkórus általános iskolásainál is, akik már a lemezmegjelenés hetében megcsinálták saját verziójukat a Feels Like We Only Go Backwards című dalból!